Winter Sports At A Stand Still
At the start of the 2020 school year, such fall sports as swimming, golf, cross country, and tennis were well under way. Also, the winter sports of basketball and bowling at Regina were projected to have a successful start at the beginning of November. Although, as the fall progressed, there continued a large spike in COVID-19 cases all across the state. This made the IHSA weary of beginning the winter sports' seasons, and so, they put an alternate plan to a vote.
As students across the state expected their November 16 start date, they were abruptly let down as a two-week pause was put in place. All strength, conditioning, and open gyms were put on pause to ensure that everyone was doing their part to stop the continual spread of the Coronavirus across the state.
A senior bowling team member, Sofia Rana, comments on the success of tryouts and the promise of the coming season, "We had a really big turnout both days and got participants from all grade levels. The spirits were high during tryouts and I know that once the season is resumed we're going to have the best season yet! I was sad to hear that the season was going to be paused just after we haf tryouts, but I'm hoping that everyone still keeps that same excitement when we continue."
With the two-week pause moving along smoothly, more and more schools were going back to fully online learning because of the steady rise in cases. Yet again, the IHSA held another meeting to conduct a vote to determine winter sports going forward.
On December 2, the IHSA Board of Directors met virtually and concluded that there will not be any sports played in the month of December. Low-risk sports are projected to start in January, but all of that will be determined as the state mandates and the limitations of Tier-3 are put into place. The state would have to move out of Tier-3 in order to conduct most sports. The IHSA Board of Directors is scheduled to meet again later this month to discuss the next steps of their plan to put in place.
The IHSA is hopeful for all low-risk sports and a start time in January, but where does that leave basketball? Deemed as a high-risk sport back in the summer, basketball has not been given any specific information as to when they can expect to have their season. Speculation surrounding the hope for basketball to have a season has led many schools to believe that their season will move to the spring.
Senior basketball player Kaitlyn Dutkin is trying to keep a positive attitude about the coming season. She remarks," Regina girls are passionate, especially the basketball team. Win or lose, we leave our hearts on the court…Regina means family and the team has been my family since the first day…Not being able to play with my sisters is one of the hardest things about this year, but once our season starts, I have no doubt in my mind it will be our best year yet."
The only good news is that the IHSA is committed to seeing every sport have their season. Hopefully, come 2021, there will be some changes for these athletes.
About the Writer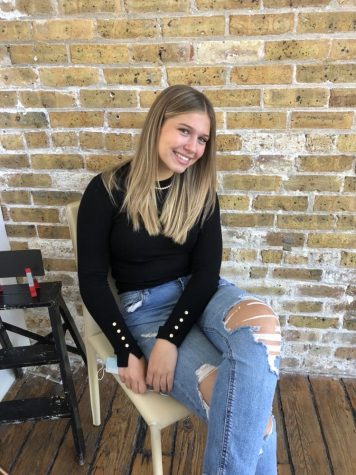 Maeve Newton, Staff Reporter
We are excited to welcome senior, and newest transfer student, Karly Svachula as a new staff reporter for The Crown. As her first year on The Crown, keep...