Seniors Look Back and Look Ahead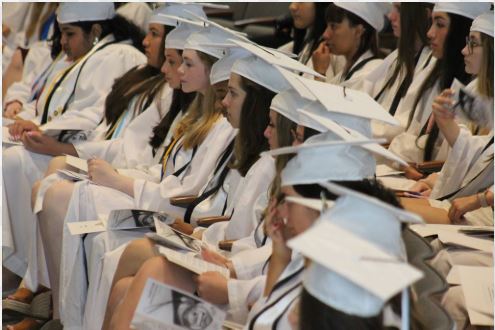 What are you most excited for next school year?
Being away from home
Freedom
Football Games
Independence
Living with friends 24/7
Meeting new people
Exploring Boston!
New Orleans
Getting More Sleep
Not getting detentions
Tempurpedic Mattresses
Joining a sorority
Being at a Big 10 School
Not having to stay in the classroom for 8 hours a day
---
What will you miss about Regina?
The people
All the teachers, faculty, and friends
Seeing friends everyday
Gina Bowls and Mrs. Houston
Coming to school in pajamas
Getting in trouble
The people and the community we have built over the last 4 years
Wrestling Emma in the senior lounge
---
What advice do you have for the Class of 2019?
Deep breath in; high school goes so fast
Recognize that Regina is honestly such a great place and take advantage of the opportunities it has to offer
Enjoy the weird little things about Regina while they're happening because they'll never happen anywhere else
Have  fun and appreciate Regina because you will miss it; I promise
Go to Regina events, football games. These are the things you will remember the most
Get some sleep
Live everyday like it's your last
Enjoy your senior year – it flies by
Be nice to people
Stand up for yourself! The school should hear your voice when you see something that is wrong
Drama is beneath you
Love your class while you can because in a few short months you'll probably never see over half of them again
Finish Common App early!
Don't stress too much. Senior year is ten times better than junior year.  Just have fun and make wonderful memories
Don't waste your last year–No regrets
Don't stress about college, everyone will get in somewhere!
Keep your grades up
Don't spend your four years complaining because no matter what your experience at Regina is you will miss it when it's over