Varsity Basketball "Gets Hungry" at Their Regional Championship Game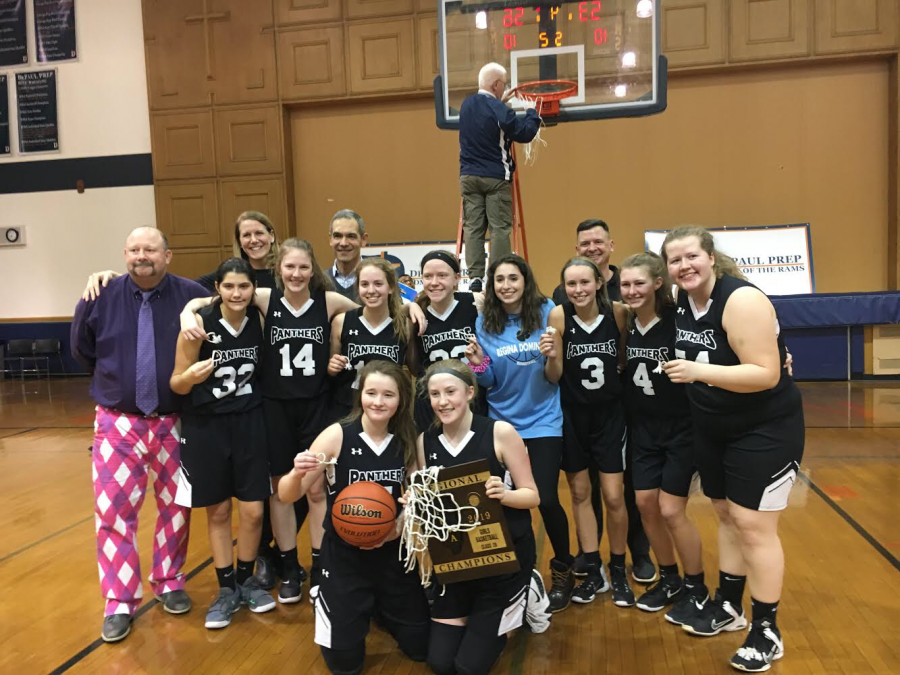 Nicolette Anichini, Staff Reporter
March 20, 2019
The Regina Varsity Basketball team won the Regional Championship against Timothy Christian at DePaul College Prep on February 8, winning with a score of 56 to 53. The Varsity team played two games prior to get to the championship. Their first game was against Cristo Rey St. Martin at DePaul on February 4th with the score of 71 to 6. Next, they advanced to play DePaul Prep in their home gym and came in strong with the win in overtime with a score of 43 to 40.
The Varsity kept the games close and exciting for everyone in the stands. The Varsity was not going to go down without a fight. Each game attracted more fans and more cheers. There was never a dull moment, and it left members of the crowd engaged and losing their voices from cheering them on.
One of the Regina fans, Kathleen Rabbitt '20, remarked, "I loved going to the Varsity Basketball games and watching them play. Seeing how close they were as a team was so amazing, especially in the Regional Championship game. That game was so exciting. You could tell that game meant everything to each and everyone of the players by how they played. Everyone of them played their hearts out, and it was so exciting to watch it. Being there with everyone and supporting the team was one of the best experiences at Regina. It was absolutely amazing watching them win, and we were all so proud of them. Running on the court after they shook hands was something I will never forget and something that the players will treasure forever. They definitely deserved it, and I'm so happy for them."
Nancy Strenk, mother of Laura Strenk '21, adds, "The Regina team definitely plays better to big crowds, as evidenced by our win against Walter Payton College Prep earlier in the year. Regina managed to knock-off and upset two much higher ranked opponents (per MaxPreps) to win the Regional championship in very close games. Both of our last two opponents in the Regionals were ranked more than 100 schools ahead of us in the state of Illinois. We were ranked in the low 400s going into the tournament; whereas, the other two schools were ranked in the low 200s in the state of Illinois. Since we beat them, our rankings improved to 378."
Unfortunately, Regina Dominican's Varsity Basketball team ended their season on February 12 when they lost their sectional game to Marshall, who was the number one seed in their sectional, at Timothy Christian (59-30). The Varsity's seasons record was 13-18."
Emily McNaughton '19 comments about the Regional games this season, "It was a team effort. Nothing could stop us and we will never forget it."
This team has become apart of a legacy that will be acknowledged for years to come. Great job Panthers! Can't wait for another season! Hold the rope!
Congratulations to the Varsity Players and Coaches:
Kaitlin Byrne '19
Emily McNaughton '19
Summer Rocha '19
Caitlyn Ward '19
Nora Clancy '20
Isa Krebs '20
Lola Simon '20
Caroline Spellmen '20
Laura Strenk '21
Reganne French '22
Coach Bob Newton
Coach Trish Andrews
Coach Joe Fabianski
Coach Eliseo Thorrens
Coach Calvin Loyd
Special shou tout to Asia Harris '19 who was the team's manager this season!