Top 5 Restaurants to Try in Chicago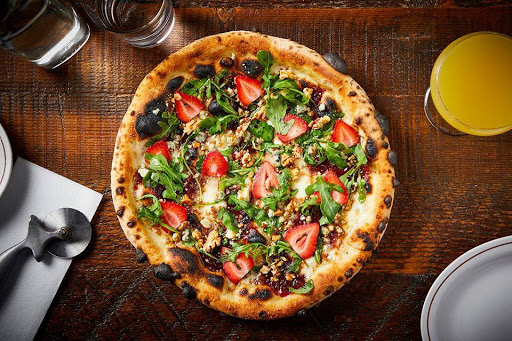 Mia Krebs, Contributing Staff Writer
February 9, 2020
Going out to eat is an exciting and fun thing to do with both friends and family! Chicago has countless new restaurants that are tasty, trendy, and fun.
These 5 restaurants are in great neighborhoods, such as Wicker Park, Wrigleyville, the West Loop, Lincoln Park, and Lakeview. All 5 places are known for different food, which makes them all fun to try! 
Parlor Pizza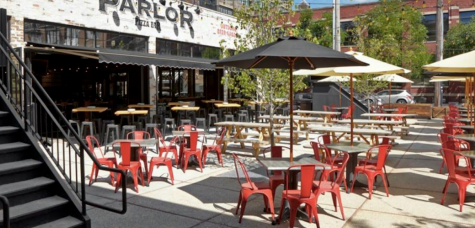 The first restaurant in Chicago that you must try is Parlor Pizza. Parlor Pizza is a pizza place with locations in the West Loop, Bucktown, and the Loop. At Parlor Pizza, individual pizzas are served. Types of pizza vary from plain cheese to an arugula, lemon vinaigrette, and white truffle oil pizza.
Not only does Parlor Pizza have a variety of toppings for their pizzas, but they also have funky names for them. These include the "Chessus, Mary, and Joseph," "Honey Boo Boo," and "Ready To Brisket All." If you do not like pizzas with extreme toppings, you can also build your own pizza and top it with anything you like. The pizza is both delicious and flavorful, as well as neither too filling or too light. 
Yes, Parlor Pizza's pizzas are delicious, but that is not the only thing they are known for. Parlor Pizza works with Dessert Dealer to bring a dessert counter at each location. Dessert Dealer provides ice cream, cookies, cupcakes, and their most famous creation: dessert tacos. Parlor Pizza introduces a taco shaped waffle cone that is topped with things like ice cream, Nutella, bananas, and chocolate chips. These too have fun names like, "Gimme S'More" and "Go Nuts." 
Parlor Pizza is a new and fun restaurant to try in the city. All three locations are surrounded with shops to visit and places to walk to. The restaurant is usually pretty crowded because of the popularity, but that makes it all the more fun! So the next time you are in Chicago and want to try something new and funky, go to Parlor Pizza! You will not regret it! 
Big Star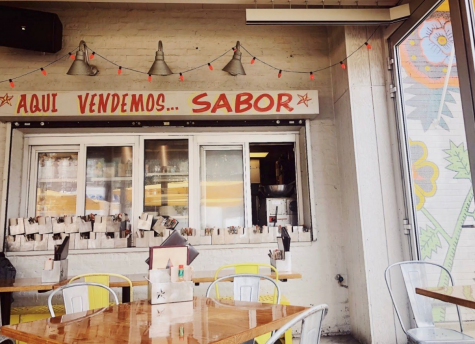 Another restaurant that is a must-try in Chicago is Big Star. Big Star is a taco joint with locations in Wrigleyville and Wicker Park.
Big Star serves brunch, lunch and dinner daily and has both vegan and vegetarian options. For brunch, Big Star serves a variety of chicken, steak and fish tacos, steak and egg burritos, and chilaquiles, which is a tortilla chip and salsa dish with a variety of toppings. For lunch, Big Star mainly serves tacos.
The tacos served include carne asada (beef), chicken, steak, al pastor (pork), brussels sprouts, and fritos/beans. Each order comes with 2-3 tacos, depending on your preference. All tacos are very flavorful and can come as spicy as you like.
Although Big Star is known for their delicious tacos, you can also get the Big Star Salad, if you prefer a lighter option. Some of the things this salad includes are lettuce, beans, cucumbers, avocado, mint, queso fresco, and toasted pumpkin seeds.
For dessert Big Star brings in churro pops from a Chicago ice cream store, located in Logan Square, called "Pretty Cool Ice Cream." Big Star has outstanding indoor and outdoor seating. It is a very open place, so it is great to visit during the summer.
You can go on a typical day or even before a Cubs baseball game because of its great location across the street from Wrigley Field. Big Star tends to get very crowded at the Wrigleyville location, while it is much calmer at the Wicker Park location.
So, if you want a loud and crowded experience go to the one in Wrigleyville, but if you want a quieter, calmer experience, going to the Wicker Park location is recommended. Although very different, both locations are great and serve you amazing food! 
Kanela Breakfast Club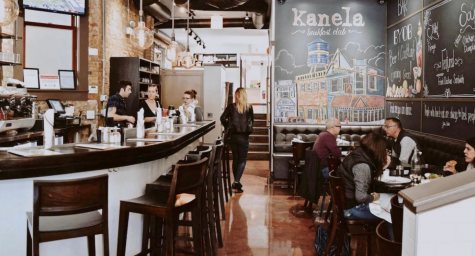 Kanela is a restaurant that serves breakfast, brunch and lunch. It uses organic ingredients to bring together tasty meals for all. Kanela can be found in Wicker Park, Streeterville, Lakeview, Andersonville, Old Town, and Ukrainian Village, all places will a bundle of fun things to do.
At Kanela you can pick from a variety of foods. The menu serves açaí bowls, French toast, omelettes, soup, salad, sandwiches, burgers, wraps, avocado toast, eggs, and breakfast burritos. Kanela also offers a bunch of different beverages. These include juices, like "Skin Revive" and "Citrus Kick" smoothies, like "Matcha" and "Blueberry Muffin," and coffees, like macchiatos and chai lattes. 
In addition to Kanela's great food, its interior is great as well! Each location has a different interior, but all are equally pleasing. All locations are pretty modern, but some have more of the summery vibe, while others have more of a cozy feeling. Altogether, Kanela is a great restaurant to try during the daytime with friends or family! 
Cafe Ba-Ba-Reeba!

Cafe Ba-Ba-Reeba! is a Spanish restaurant in Lincoln Park. It serves tapas, which are small dishes in Spain. Each person receives about 2-3 tapas.
You can order a variety of dishes for lunch/dinner, whether it is Vegetables & Cheese (options include: fried green peppers, spicy potatoes and garlic potato salad), Seafood (options include: grilled squid, shrimp, and salmon), Beef & Lamb (options include: beef empanada, beef tenderloin, and grilled rack of lamb), or Chicken & Pork (options include: skewered chicken and chorizo sausage, chicken empanada, and fried chicken).
All dishes are bite size, so you get to try multiple different foods. In addition to these tapas, there are also paella dishes. Paella is a classic rice dish in Spain. Cafe Ba-Ba-Reeba produces paella dishes with chicken, vegetables, shrimp, squid, and mussels. Both tapas and paella are delicious and worth trying.
However, if you would rather go out earlier in the morning, Cafe Ba-Ba-Reeba! also offers brunch. At this time the menu has some of the more typical breakfast foods. There are pancakes, waffles, eggs, toast, crepes, and yogurt. You can also order mac n' cheese, and cubanos as more of a lunch meal.
Cafe Ba-Ba-Reeba!'s different type of dishes is one of the reasons that makes the restaurant so great. Not only is it delicious, but it is something new. The huge variety of dishes they offer makes it easy to try a safe and exotic option all at once. So if you ever are going out and want to try something completely different, go to Cafe Ba-Ba-Reeba! 
DMK Burger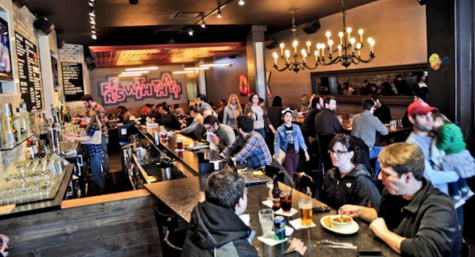 DMK Burger is a burger bar in Lakeview. It has won multiple food awards, including "10 Best Burgers in America," "5 Best New Burger Concepts in America," "Chicago's Most Iconic Burger," and "Best Fries."
Having all these awards sets DMK Burger at a high standard, but does it meet that standard? No, DMK Burger exceeds them. DMK Burger is known for its meal combination of burgers, fries, and shakes. They provide a handful of different grass-fed burgers with hundreds of different toppings, including bacon, eggs, pesto, arugula, cheese, and red Thai curry sauce.
They offer fries with cheese, truffle cream, aioli, and black pepper, and vanilla, chocolate, pb&j, and espresso shakes. However, if you are not in the mood for any of these options, DMK Burger also provides mac and cheese, grilled cheese, and salad.
DMK Burger is the perfect place to try if you want to eat good comfort food, but be surrounded by excitement!