The Way I See It
A documentary by Dawn Porter, on the eighth years of the Obama Administration, and the present day political climate, through the eyes of a former White House photographer.
The former Chief Official White House Photographer, Pete Souza, gives a behind the scenes look on the years of Barack Obama's Presidency, and provides his personal reasoning for speaking up about the unfolding events of today's politics in Dawn Porter's new documentary "The Way I See It." 
Souza was one of the official photographers for the Reagan Administration in the 1980s and later was commissioned to act as the chief of photography during President Obama's time in office. He began the day President Obama was elected as a senator and followed his every step from then on. He captured every moment. Whether they were big, small, intimate, or stressful, Souza was there to snap a picture. 
In his years as the Chief Official White House Photographer, Souza was present at every meeting, conference, or function where a decision of some kind was being made. Being good at his job, Souza was able to slip into the corners and go unnoticed, enabling him to capture the true emotion of the people and places he was documenting. 
After eight years in the White House, Souza took some well-deserved rest away from the high-intensity life of photojournalism. Although, he soon found out that he was not destined to live a quiet life. The privilege of being in a room where major decisions were being made came with a lot of security and assurance that Souza would not disclose any of those details to the public. There were many limitations to what Souza could say in the public eye, but now that he is retired from life at the White House he can speak up about things that he is passionate about. Souza has become a prominent social activist and speaks up daily about his opinions on many different social media platforms. 
Souza recalls in the documentary, "After I left the White House I started a personal instagram account. My intention was to highlight some of the photographs that I had made throughout my career. I never intended to be vocal in any way about what was going on." He continues in saying, "I think it's my right as an American citizen to speak out when I see wrong. I really come at this from a unique perspective not just as a former photojournalist, but also having worked for both the Obama and Reagan Administrations. You see what its like on the inside of a presidency."
The New York Times offers a rundown of Souza's two books that have been released since his time with President Obama. "Obama: An Intimate Portrait," which includes some of the most memorable and notable moments of his eight years in office, and "Shade: A Tale of Two Presidents." This book is meant to contrast the former president with the current president of the United States. 
"The Way I See It" is a glance into both of these books. Souza reminisces on simpler times and makes his own bold comments on the political climate the country has been in for the past few years. In the end, Souza makes an ardent call to action aimed for the American public to start using their voice as Souza has. 
Reminiscent, yet invigorating, "The Way I See It" is a glance both backward into a time of different leadership, and forwards to a future full of hope and change. 
About the Writer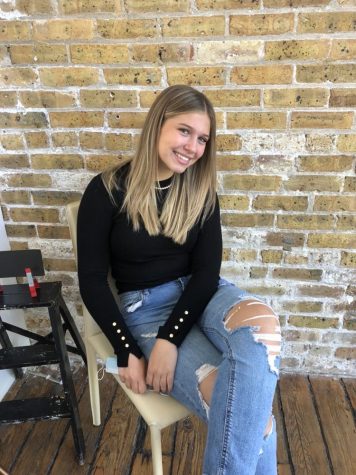 Maeve Newton, Staff Reporter
We are excited to welcome senior, and newest transfer student, Karly Svachula as a new staff reporter for The Crown. As her first year on The Crown, keep...