Swim Team Dives into Strong Season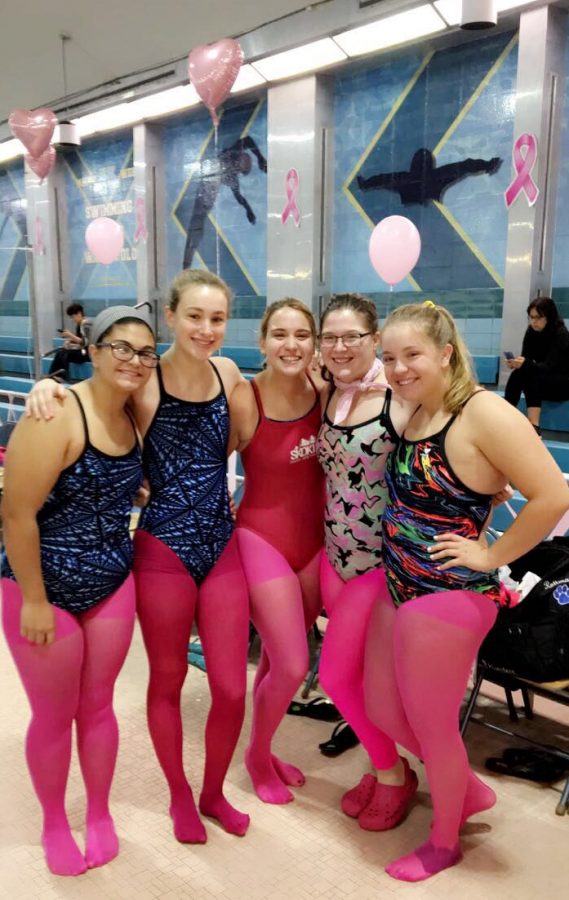 Despite the fact that there are less than half a dozen girls on the swim team, 5 to be exact, this season has been successful for the Panthers. Every swimmer has broken their personal records this year.
The team consists of Alexandra Sweilem '19, Elizabeth Stutz '18, Murphy Weiland '18, Stephanie Zalinski '17, and Julia Rottman '17. They work well together with three relays and a handful of individual races.
Sweilem is the youngest on the team, but is a strong member of the varsity team. This is her second year swimming for Regina. She has a fast and strong freestyle that has continuously gotten better over the course of the season and earned herself a spot on the Varsity 200 free relay.
This is Stutz's second year on the Regina swim team. She swims breaststroke in the 200 and makes a major difference in the 400 with her quick start and strong finish. She keeps cutting her time by lengthening her stroke and having a quick turnover and looks to do even better in conference.
Swimming for her third year on the varsity Regina swim team is Murphy Weiland. She is an excellent swimmer with the fastest freestyle times on the team and is the anchor on all three relays. She cut her 50 m free down from 33.26 to 28.53, which is a major improvement for a swimmer in one year! Her goal is to get her 50 m to a 28 second flat time.
This is Zalinski's third year swimming for Regina. She is one of the most dedicated members on the team, always working hard in dry-land practices. She has a strong backstroke and butterfly and starts all three relays. She hopes to leave a big mark on the team.
Last, but not least is Rottman, who has been swimming for Regina for four years and will be missed by the whole team next year. She swims in all three relays and has swum every event at least once each year. She swims third in the relays and swims the butterfly in the medley.
The team participated in a meet dedicated to breast cancer awareness. They wore pink tights to show their support and said that it was a lot of fun and a great experience.
Swim senior night was Friday, October 28. When asked about the seniors, junior Murphy Weiland said, "I have swam with the seniors for three years now and I can't imagine the team without them next year. I hope to have that impact on the underclassmen next year."
Their sectional is at Deerfield High School on November at 12 from 8am – 4pm. They would appreciate the fan support. They hope to do well and get great times.