Regina: Where It Came From and Where It Is Going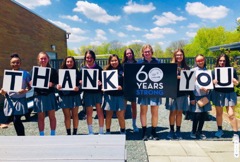 Regina Dominican High School has been around for 61 years.
Regina has a long and colorful history that stretches back to the establishment of the Dominican Order in 1216. Saint Dominic started the Dominican Order in France with the purpose of preaching the Good News throughout the world to people who needed the message. The Adrian Dominican Sisters are not only apart of the Dominican order, but the founders of Regina Dominican High School.
The freshmen visited the Motherhouse of the Adrian Dominican Sisters during their retreat this past August. During their trip, they learned about the four pillars of Dominican Life: prayer, study, community, and service. The Sisters have established many schools throughout the United States , and one of those schools is Regina! Regina opened in 1958 with approximately 264 students: 200 Freshmen and 64 Sophomores. Adrian Dominican Sister Mary Kevin Campbell was the first principal of Regina Dominican.
One of Regina's main goals is "Inspiring Global Leadership." Over time, Regina has developed its own definition of leadership. Due to the emphasis Regina puts on the idea that any woman can be a leader, many Regina girls have become important leaders in our society and around the world. Regina offers many different ways to help girls grow as leaders, including participating in Leadership Institute activities, class leadership boards, and student council.
In particular, student council has been in effect for a very long time at Regina, with its main purpose being to organize school-wide events. However, it also allows young women to grow as leaders in their communities. 
A girl who goes to Regina is given countless opportunities to succeed because of the wonderful, supportive environment that we all see from day to day. The Regina girls of the past can probably speak to this as well. Surely, long after the current student body graduates, Regina will still be pushing girls to be the best that they can be, whether it be as leaders, athletes, students, or anything else. A Regina girl gets to be who they choose to be, and Regina will always support you.