Regina Girls Do it All
From the classroom to the courts and all the way to the stage, Regina girls do it all.
With a selection of 12 sports, 24 clubs, and numerous fine arts opportunities, it is hard to choose just one. And, at Regina Dominican you don't have to!
Former Panther, Nicolette Anichini, recounted her experience doing it all. Graduate of 2020, Anichini walked the halls of Regina as a tennis player, basketball player, lead in the musical, choir member,  and Student Council President. She did it all.
"I was really grateful that I had the opportunity to participate in so many different things during high school. It has really helped me adjust to college" said Anichini.
Regina not only takes the extra step to make sure that their students have the opportunity to participate in multiple activities but to thrive in them as well. From all of this, stems the development of lifelong skills such as time management, leadership, and relationships.
Now a double major in communications and music, a member of the tennis club, and a part of the campus choir, Anichini continues to do it all, valuing the opportunities she had to so before entering college.
Current student, Kayla Smith '21, shares a similar experience to Nicolette. Captain of the swim team, National Honor Society President, International Thespian Society President, Orchesis member, and Mathlete, Kayla too, does it all.
"I appreciate the open possibilities I have at Regina and know that the skills of organization and scheduling will benefit me in the future," said Smith.
Even current students are aware of the benefits they receive as Regina girls. They know that their involvement, hard work, and dedication will work to their advantage in the future. Anichini and Smith are only two Panthers out of the many who do it all.
In fact, Regina Dominican reported that last year, out of roughly 230 girls, 70% participated in at least one sport and 20% participated in Orchesis. For a small school, numbers like these are extremely significant.
Many of the girls also participate in unique activities outside of school. For example, Sarah Hermann '22,  is a trapeze artist or Leia Spaniak '21 has had one of her science experiments housed at the International Space Station!
Regina girls are really Renaissance women–there is no limit to what they can accomplish.
"Regina has always fought for me to do my best and encouraged me to excel and do more. I have received so much help from both the administration and my teachers," said Spaniak.
No matter the sport, hobby, or project. Regina is there to help. They want to be engaged with their students, pushing them to their fullest potential. At many other high schools, it can be difficult to be so involved. Whether it is due to a large student population, selective opportunities, or pressure to focus on a particular area of expertise, many students do not get the opportunity to do it all.
At Regina, you can be a mathlete who plays soccer, a flute player who does Orchesis, or a yearbook editor who is in the baking club. You have the ability to explore new things and are joyfully encouraged to do so by peers, teachers, and coaches.
Regina's mission statement states, "We focus on helping girls excel by fostering academic excellence, creating an inclusive, friendly environment, and challenging each student to develop leadership for life…We prepare our students for their future careers, relationships, and life."
"For life." This is what it means to be a Regina girl. You are able to take your experience and apply it beyond, to infinite possibilities.
You are able to do it all.
About the Writer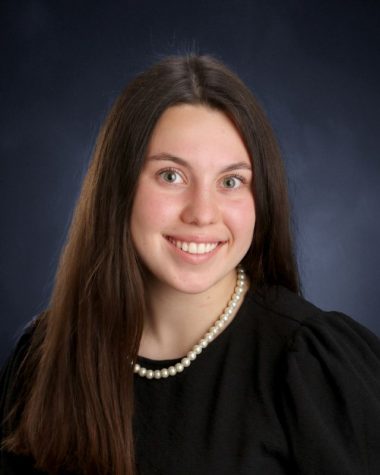 Abigail Farmer, Layout and Design Editor
This year, we have the honor of welcoming, senior, Abigail Farmer to The Crown as a new staff reporter. With it being Abigail's first year on The Crown,...