Regina Dominican Encourages Empowerment
I walk around hallways full of young women hungry for knowledge and eager to challenge the world.
I attend Regina Dominican, which is an all-girls Catholic college preparatory school. Regina Dominican allows young women to explore in any field of interest with the belief that they will better the world through their individual talent. Through various clubs, extracurriculars, and courses, each girl is allowed to limitlessly experiment with the different ways she can find what she feels passionate about. What makes it so easy for a Regina girl to comfortably express themselves and easily prosper in any area they wish is the warm and empowering environment we spend each day in.
While attending a co-ed middle school, I found myself more concerned with the style of my hair or a pair of new jeans than the expression of my ideas. It was easy for my ideas and beliefs to be persuaded and easy for me to overthink what I believed in because of the pressure I felt from the boys at school. Rather than using the mornings to set my goals and prepare for the challenges ahead of me, I used them to straighten my hair and curl my lashes. In the classroom, I found my voice drowning in a sea of spontaneous outbursts from the boys in my class, that were always followed by a loud outroar of laughter. Although their witty remarks were not intended to discourage me, I still hesitated to speak freely.
Although this may not have been the same experience for everyone, I, as well as some other girls, were definitely affected by this. When first going to Regina, subconsciously, I was afraid to express my true beliefs and was afraid to voice my opinions. I vividly remember the moment I began to gain confidence and started to feel comfortable with my opinions again.
Regina has a class leadership board for every grade level. In this organization, you plan events for your class. Following a government approach, you can run to be president, vice president, or secretary. With much thinking and overthinking, I decided to go out on a limb and run for president of my class. I had to write a speech as to why my classmates should vote for me as president.
When giving speeches at my middle school, I was always used to the side conversations and the little laughs across the room that the boys would yell out, but this wasn't the case at Regina. During my speech, I was respected with loads of eye contact and not a side conversation to be heard. After I finished my speech, I was graciously complimented with roaring applause and it was at that moment that I knew I was going to love it here and knew the kind of supportive environment Regina Dominican provided.
Three years later, as a junior, I can proudly say I am fully confident to voice my opinions and beliefs without them being torn down by anyone at Regina. We always say "girls support girls," and I can validate that we sure do practice that here at Regina.
Regina encourages you to be the best version of yourself. Regina is a prime example proving that it's not about what's on the outside that determines one's success and potential, rather what's on the inside.
Now, instead of waking up in the mornings and putting on makeup or trying to find the best outfit to wear, I set my goals, throw on my uniform, put up my messy bun and get ready to conquer the day… it goes a long way.
About the Writer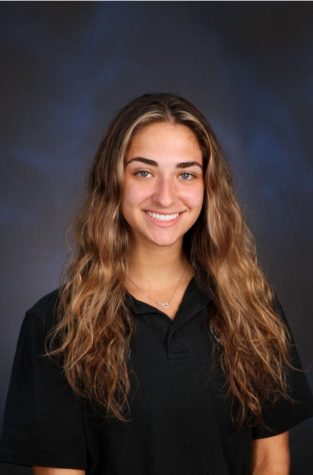 Vanesa Hoxha, Editor-in-Chief
As the youngest member on the team of staff, The Crown is very happy to have junior, Vanesa Hoxha. Vanesa currently plays volleyball, softball, tennis,...