Meet Vianny As She Tumbles Headfirst into Senior Year!
As unusual as it is, you might've seen a new face roaming the halls of Regina Dominican in a senior skirt: that would be Vianny Morocho!
She transferred here for her senior year, but fellow seniors may have seen her before as Anais Martinez's guest to our freshmen year's Fall Fling. Before she was in our classes, she attended Morton East High School in Cicero, Illinois, but the school had several issues with student violence and she felt it necessary to follow her friend, Anais and transfer to Regina for her senior year.
Vianny also recently joined the Saint Patrick High School's cheerleading team, where she helps to lead the crowd in cheers under the Friday night lights in support of the Shamrocks.
Regarding her interest in cheerleading, she said, "When I was younger, I saw all the "Bring it On" movies and ever since I always thought I'd try in high school."
When the weather starts to get colder and football season ends, she really enjoys figure-skating. She also likes photography, reading horror novels, and spending time with her two older half-siblings, who are from Ecuador.
In the future, Vianny hopes to go to college and become an ultrasound technician, to help with ultra-sound imaging with women who are pregnant or anyone who may have potential heart disease in the abdomen and surrounding areas.
Vianny is excited to participate in Regina's Spanish Club, as well as become an active member of the Diversity, Equity, and Inclusion Leadership Board. She is excited to integrate more with the Regina community and learn more about those around her.
Morton East may not have been the best for Vianny, but as she said, "I'm here now!"
Leave a Comment
About the Contributor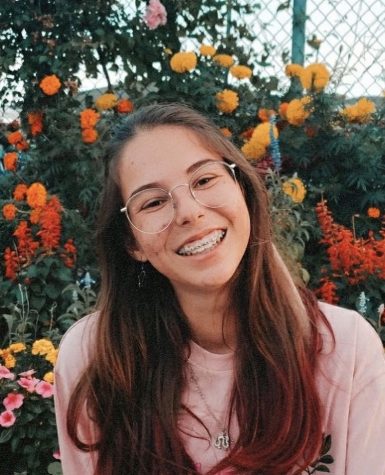 Grace Schnier, Staff Reporter
Grace Schnier is a senior staff reporter for the Crown. She plans to write about extracurriculars and events within the Regina community, but also newsworthy...