Learning Specialist Nicolas Adamo is Regina's Newest Faculty Member
Regina welcomes our latest faculty addition, Nicolas Adamo. Mr. Adamo is Regina's junior varisty volleyball coach and has recently been hired as the learning specialist. He is also brother to Angelina Adamo '20.
Mr. Adamo's childhood life was centered around being with his family. He said, "I learned from an early age that family means everything and should be cherished."
Adamo grew up in Jefferson Park, located on the northside of Chicago. The Adamo family has always been in the Chicagoland area, with Adamo and his siblings going to either Notre Dame College Prep or Regina Dominican.
In high school, Adamo went to Notre Dame College Prep where he met his social studies teacher who inspired him to go into history.
Adamo said, "I was inspired by my High School U.S. History teacher at Notre Dame College Prep. He showed me what it took to become a role model in a community."
For college, Adamo headed off to Carthage College in Kenosha, Wisconsin, where he got his Bachelor of Arts in the Broad Field of Social Sciences and minors in both history and secondary education.
"I came to Regina Dominican for a change to give back to a community that has already given so much to my family." Adamo said. He wanted to be a part of the community he had always known and wanted to be a part of the tradition in how Regina Dominican empowers young women to strive to be the best version of themselves they can be.
Outside of Regina Dominican, Mr Adamo likes to watch football and hockey. He even knows how to play the ukulele, which helps him relax in his spare time. On a lighter side, he has met comedian Joe Gotto and he has seen improv and stand-up comedian Sal Vulcano from the Impractical Jokers preform twice live. Adamo considers himself to be one of the biggest fans of the HBO series, "The Game of Thrones."
The Regina community can find Mr. Adamo in many different classrooms or at his home base on the second floor.
Leave a Comment
About the Contributor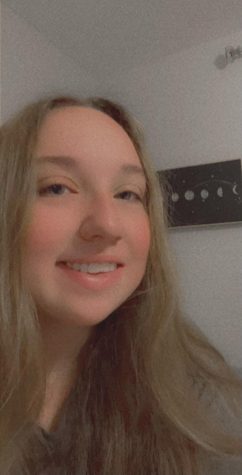 Carlie Villa, Staff Reporter
Carlie Villa is a senior at Regina Dominican and a staff reporter for The Crown. During her free time she likes to compete with her dad, improve her skills...