It's Midterm Season! And No, Not The Exams
Midterm season is upon us, and while some Regina classes do have actual midterm exams, the entire country has midterm elections! In the United States, midterms are the general elections held two years into a president's term and are generally focused on the two chambers of Congress, the House of Representatives and the Senate. However, midterms aren't just focused on federal positions, there's also many local elections for state congress, governor seats and more!
The midterm elections are extremely important as they're the deciding factor in who will control congress and if President Biden's agenda will be carried out. They also decide what the state government will work towards, many of which are things that directly impact us, such as local laws, setting up courts, levying taxes and how the state spends and borrows money.
Election Day was November 8 and throughout Illinois, Democrats carried the vote retaining their federal positions as well as the state legislature. The party will control the governorship, the State Senate, the State House.
Incumbent United States Senator Tammy Duckwork won her race for reelection with over 2.2 million votes, to Republican candidate Kathy Salvi's 1.6 million. With her military background, Duckworth is an advocate for both veterans and military families while also dedicated to promoting civil and equal rights, environmental justice, protecting social security and medicare and promoting job development programs.
J.B. Pritzker, the billionaire incumbent Governor, won his reelection campaign beating Darren Bailey, a far-right state senator who was endorsed by the former President, Donald Trump. Pritzker carried the vote in urban cities and received 12% more votes than Bailey. Pritzker plans to continue getting Illinois back on track towards fiscal stability, supporting small businesses, expanding affordable healthcare, fighting for equality and justice, protecting a woman's right to choose, improving education and strengthening rural and downstate communities.
The races for the U.S. House of Representatives remained solidly Democratic with only three of the seventeen seats going to Republican incumbent candidates. In Regina's district, Illinois's 9th Congressional District, Incumbent Jan Schakowsky won reelection for the thirteenth time with a margin of D+42. Republican candidate Max Rice finished with 29% of the vote. Schakowsky serves as a Senior Deputy Whip in the House Democratic Leadership and is on a variety of committees where she fights for affordable healthcare, women's rights, immigration reform and a two-state solution for Israel and Palestine.
As for the State Senate and House, both incumbent candidates in Regina's district won. Senator Laura Fine beat Republican challenger Paul Kelly with over 76% of the vote. Representative Jennifer Gong-Gershowitz beat Republican candidate Bradley Martin with over 71% of the vote. Fine is the chair of the new Behavioral and Mental Health Committee, works to support environmental conservation, access to affordable healthcare and insurance. Gong-Gershowitz supports a holistic approach to balancing the state budget in a responsible, forward-looking manner, funding education as well as protecting the environment, women's rights, immigration and human rights.
Other statewide races include Attorney General, Comptroller, Secretary of State, Treasurer. Incumbent Kwame Raoul won his race for attorney general, defeating Republican Thomas DeVore with ten more percent of the vote. Raoul plans to continue fighting crime in local communities, advocating for women and their right to choose, fighting for affordable healthcare, supporting survivors of violence, protecting children, standing with workers and protecting voting rights. Susan Mendoza won reelection for the comptroller seat, defeating Shannon Teresi by six hundred thousand votes. The state comptroller pays the State's bills and monitors state funds. With the recent pandemic, Mendoza has focused on navigating the state through unprecedented fiscal challenges while ensuring working-class families are not left to deal with the burden. Following Jesse White's retirement, Alexi Giannoulias won the Secretary of State race, defeating Republican Dan Brady. Giannoulias aims to protect voter rights, toughen ethics laws, enhance libraries, modernize offices, crack down on scam artists, provide second chances to ex-offenders, make roads safer, fight climate change and enhance business services. Incumbent Michael Frerichs won his race for treasurer, defeating Tom Demmer by three hundred thousand votes.
County specific races for Cook County include the County Assessor, County Board President, County Clerk, County Treasurer, Sheriff, Water Commissioner and Water Reclamation Commissioner. Democrats won all of these seats.
Another item on the ballot was Constitutional Amendment 1, The Right to Collective Bargaining. This measure passed with 58% of the vote and will amend the state constitution to guarantee workers the right to collectively organize and bargain.
Disclaimer: This article was written without bias based on the campaign websites of those elected within Regina's district. For more information on elections in your own district, please see this link.
Leave a Comment
About the Contributor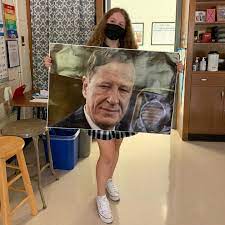 Maddie Lunt, Staff Reporter
Maddie Lunt is a senior at Regina Dominican High School. This is her first year on Crown serving as a staff reporter. She intends on writing about different...