Hello and Welcome Back to Ms. Lowry!
As Regina has welcomed many new faces to the faculty community this year, one is pretty familiar- Ms. Lowry who was a student teacher with Mrs. Van Treese last year. After graduating from DePaul University with her Master's in Education, she returned to the Regina social studies department and we are very excited to have her back!
Ms. Lowry grew up in Los Angeles, California where she attended an all girls high school, similar to Regina. At first, she didn't particularly like the school, but later grew to love her time there, appreciating the fond memories she has of it. Following her graduation from high school, she moved across the country to attend Loyola University here in Chicago where she majored in Communications which she loved. Her enjoyment of the humanities in high school led her to the field in general but specifically advertising. Besides studying communications in general, she also was interested in graphic design and art history.
While she always enjoyed history and had some thoughts about pursuing it as a career, Ms. Lowry moved to a corporate job after her graduation from Loyola. However, the Covid-19 pandemic caused her to lose this job so she decided to return to school and pursue her masters in education. She attended DePaul University's School of Education where she received her Master's in Education in Social Studies. This made her 100% certain that education was the right career path for her, even more so than her prior corporate job. One part of her degree required her to participate in student teaching, which led her to Regina.
When asked why she returned to Regina, Ms. Lowry said, "I just had the most phenomenal student teaching experience here, mostly because of the students. Even though I only was teaching about five months, I was able to get to know the students so well and I fell in love with the school."
Outside of Regina, she works at a farmers market selling flowers, hanging out with her pitbull, Nina and enjoys reading books such as The Secret History and The Goldfinch by Donna Tartt.
Make sure to stop by Ms. Lowry's classroom on the second floor and say hello! She currently teaches World History and AP Psychology.
Leave a Comment
About the Contributor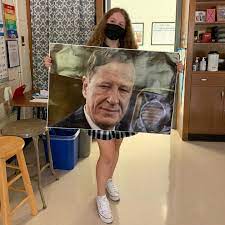 Maddie Lunt, Staff Reporter
Maddie Lunt is a senior at Regina Dominican High School. This is her first year on Crown serving as a staff reporter. She intends on writing about different...