From Spain to Chicago: Regina Welcomes Exchange Student, Nahia Cué
Nahia Cué is an exchange student who is attending Regina Dominican High School for one year. She is native to the Asturias region in Northern Spain. She learned English at school in Asturias, where some classes were entirely in English.
When asked her favorite thing about Asturias, she replied instantly, "the food." Specifically, her favorite dish there is pasta.
In her free time, Cué said she loves listening to music. She also enjoys hanging out with her friends and occasionally, reading books.
Cué ultimately decided to attend Regina Dominican High School because she has extended family that lives in Chicago. Her uncles, whom she visited in 2015 and 2018, spoke highly of Regina and encouraged her to attend. On Aug. 15, less than a week before Regina's first day of school, she arrived in the United States.
When asked her favorite thing about the United States, she answered, "I love, like, the city of Chicago. And I really like the people here."
So far, she has enjoyed visiting downtown Chicago, specifically Madison Street. She feels the people she has met so far have been very welcoming. She also said she prefers classes in the United States because there are more discussion and fewer lectures and reading assignments.
However, transitioning to life in another country is never without challenges.
Cué admitted that some things in the United States have been hard to adjust to, the most difficult being differences in time and scheduling.
"Here, we have dinner at 6:00 p.m., maybe. In Spain, we have dinner at 10 p.m., so, yeah, oh my gosh, it's a lot of time."  she commented.
Furthermore, the time difference between the United States and Spain is seven hours, which Cué said makes communicating with her family and friends back in Spain challenging.
"It's difficult to speak, to talk a lot," she told me. "When I have things to do, they are sleeping.
Leave a Comment
About the Contributor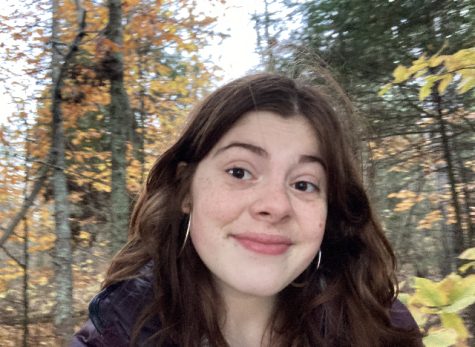 Mirai Silva, Staff Reporter
Mirai Silva '23 is a student reporting for the Crown. In her free time, she enjoys reading, writing, and crafting. Her favorite topics to write about are...