Fall Sports Wrap Up
As the fall season comes to an end, so do the fall sports. Although some sports were pushed back a season or two, due to COVID-19, some sports successfully wrapped up their season. Tennis, swimming, cross country, and golf season all completed their 2020 season.
Sports looked a lot different this year because of COVID-19. Regina Dominican's coaches and athletes were required to follow a lot of procedures to help slow the spread of COVID-19. At Regina, it was mandatory that each athlete were to complete a list of screening questions before each match, game, or practice. The following questions were asked:
Fever, cough, chills, and/or muscle aches?
Sore throat, runny nose, and/or loss of taste or smell?
Nausea, vomiting, and/or diarrhea?
Shortness of breath and/or headache?
Close contact, or cared for someone with COVID-19?
In the past 14 days have you been to a COVID hotspot?
If you answered yes to any of these questions, please explain, otherwise leave blank.
As a school, we are blessed and grateful to say that no one was positive for COVID-19 throughout the season!
Aside from the changes due to COVID-19, the fall sports continued normally with each panther hungry for victory.
As Panthers all know, Resurrection College Prep High School is Regina's biggest rivalry. Freshmen nervously wait to play their first big game against Res, while seniors sat anxiously in hopes that COVID-19 didn't take their last Res game away from them. Luckily, each sport got the opportunity to compete against Res this season. If that wasn't enough, there was much good news! Each varsity sport ended up defeating Res! Way to show the Bandits how it's done Panthers!
With the winter approaching and the new IHSA guidelines, we can only hope that the Panther's winter sports will get their season.
With temperatures dropping, Illinois has been seeing a spike in COVID cases and with this, schools are going remote and sports are being put on hold.
Although COVID-19 put a stop to or made certain things more challenging, there does happen to be a silver lining; I happened to be one of the lucky ones to experience it.
Typically in the fall, I participate in volleyball here at Regina. Due to the risk factor that it was classified under at the beginning of the fall season, the IHSA pushed volleyball to be a spring sport rather than a fall sport. Although this made many panther's upset, including myself, it opened another door that (believe it or not) wouldn't be possible without COVID. With the love I have for sports I like to get involved in a different sport every season. Due to the guidelines set by the IHSA and Governor Pritzker, they made it possible for students to be a 4 sport athlete!
I had the pleasure to be apart of Regina's tennis team this year! Tennis and volleyball are both fall sports which makes it impossible to do both at the same time. Thanks to COVID (wow I never thought I'd say that), volleyball was pushed to the spring and volleyball players were allowed to play another sport that Regina offered such as tennis, swimming, golf, or cross country.
With what's going on in the world right now, we must begin to look at things with a "glass half full" mindset rather than a "glass half empty." We need it.
About the Contributor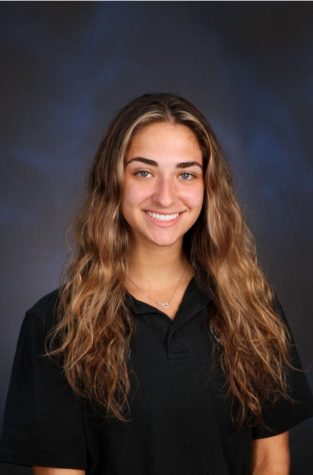 Vanesa Hoxha, Editor-in-Chief
As the youngest member on the team of staff, The Crown is very happy to have junior, Vanesa Hoxha. Vanesa currently plays volleyball, softball, tennis,...