Fall Fling Recap: Best Dressed at Discglow 2022
On Oct. 1, Regina's gym was filled with streamers, balloons, and great music as the Junior Class Leadership Board (JCLB) hosted this year's Fall Fling dance. Glitter covered the floor as the Regina community followed through with the Discglow theme. Following the theme, the gym was decorated with fluorescent banners, glow sticks, neon-colored balloons, and large disco-ball balloons to be thrown around.  The dance floor was buzzing from 7:00 pm  until the last song blared through the speakers. Students danced their hearts out to everything from Olivia Rodrigo's Drivers License to Migos's Stir Fry. The DJ lent out the microphone so people could sing the lyrics to their favorite songs. Junior Kathryn Starmann, stunned everyone when she knew every word to Gold Digger by Kanye West.
"It was a lot of fun having the mic, it was definitely the highlight of Fall Fling," said Starmann.
As a student of  the Class of 2024, this was the first somewhat normal Fall Fling that Starmann had experienced. Her freshman year dance was canceled due to COVID, and her sophomore year one was held outside the Auditorium in a tent.
"I enjoyed this year's Fall Fling a lot more than last year's because it was inside and we had a real DJ. We didn't have to play freeze dance because the Wi-Fi in the tent kept going out," said Starmann.
The dance had a great turnout and was full of amazing outfits. Regina students even got the chance to choose their favorite outfit of the night. The results of the voting determined that the best dressed student at Regina's  2023 Fall Fling was… freshman Ariella Yeboah!  Ariella crushed the competition with a beautiful yellow, satin dress paired with matching yellow earrings and white heels. 

Photo Courtesy of Ariella Yeboah
Leave a Comment
About the Contributor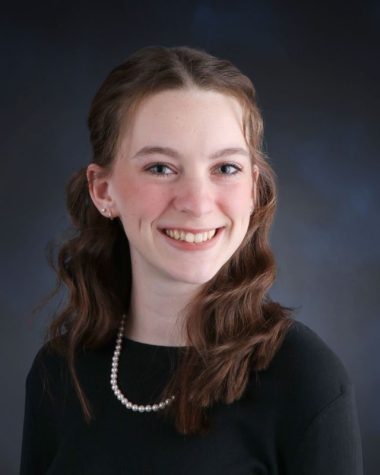 Josette LaFramboise, Staff Reporter
Josette LaFramboise is a senior at Regina Dominican. She is a staff reporter for The Crown. She plans to write about Regina news and new movies. When she...