"Disenchanted" Fails To Live Up To Original
I can remember myself as a young girl, frolicking around the house, singing the song, "That's How You Know,"from my ultimate favorite movie: Enchanted. This was one of those movies you would rewatch over, and over, and over again as a kid, never getting tired of the story, and even being able to recite a few of the lines by memory.
If you have yet to watch the movie, IMDb quickly summarizes the plot of Enchanted as, "A young maiden in a land called Andalasia, who is prepared to be wed, is sent away to New York City by an evil Queen, where she falls in love with a lawye.r".
"Enchanted" was released in theaters on November 21, 2007, and has since been one of the most successful and critically acclaimed Disney films of the early 2000s. With a rotten tomato score of 93%, and a 7.1/10 on IMDb, Enchanted is unarguably a quality film.
And now, 15 years later, Giselle returns to the big screen in the newly released sequel, Disenchanted, which was released on November 16th, 2022, on the streaming service, Disney+.
A number of actors came back to reprise their iconic roles, such as: Amy Adams as Giselle, Patrick Dempsey as Robert, James Marsden as Prince Edward, and Idina Menzel as Nancy (all looking as if they have not aged a day!). Together they brought back to life the story of Giselle in her attempts to navigate her new "non-fairytale" life.
In the new film, we find Giselle, Robert, Morgan, and their newest addition to the family, their little baby Sophia, deciding that it is time to move away from the city, and start their new "fairy-tale" life in a town named Monroeville. However, Morgan, Robert's daughter and Giselle's Step-daughter, is having a very hard time adjusting to her new life. She is a teenager now, which is a very new concept for Giselle, and she is trying her best to fit into her new home, town, and high school. After a serious fight between Giselle and Morgan after Morgan expressed her hatred for their new life in Monroeville, Giselle was desperate to give Morgan the real "fairytale" life she once had in Andalasia. So, Giselle then went on to use the magic wand given to her by her old friends, Prince Edward and Nancy who have been living in Andalasia for as long as Giselle has been in the real world, to make her wish come true: to turn Monroville into a fairytale. The story then continues on to show Giselle the actions of her consequences (with an array of a few musical numbers along the way) , which ultimately results in the near destruction of both Monroville and Andalasia, as well as the relationship between Giselle and her family.
Now, while Disenchanted might have been a fun and entertaining film on its own, did it live up to its wildly popular and beloved original, Enchanted? The internet had something to say about it. Original fans, now 15 years older, came to social media to share their thoughts and opinions on the sequel. A few described the film as a "hot mess", calling the songs "forgettable" and "bland". Others argued that the pacing of the storyline was "rough", and many of the original characters, such as Prince Edward and Robert, were "robbed" of more screen time, as they were such a pivotal factor in the success of the first film. However, not all of the reviews are so harsh. A few accounts created TikTok reviews of the film, using much different language to report their honest opinions. A few accounts admired the film's "charm" and described the story as "fun" and "refreshing". One user even went on to say that one of the songs sung in the film should be up for a few awards.
There is one similarity between all of the reviews, though, whether they are positive or negative, which is: there is no way the sequel beats the original. Enchanted, at the time of its release, had a movie concept that had never been seen before in the film industry. With its satirical spin on Disney tropes, witty dialogue, and ultimate appeal to both younger and older audiences, Enchanted has been proven hard to outdo. Therefore, the reviews for Disenchanted should not come to be a surprise, as the case of sequels being more successful than the original is extremely rare to come across.
No matter how well written and produced a sequel could be, the rather "die-hard" fans of the original are inevitably going to be the toughest critics. Could you name one sequel that is better than the original? Yeah, neither can I.
Leave a Comment
About the Contributor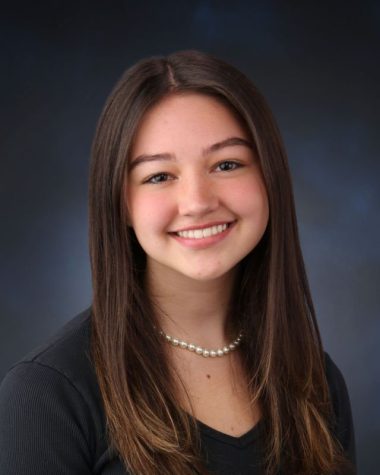 Grace Leahy, Staff Reporter
Grace Leahy is a senior at Regina Dominican High School. This her second year on The Crown and she fulfills the role of a staff reporter. Grace plans on...