News: January #1
Australian Bush Fires
Since the bush fires in Australia started, 28 people have died. New South Wales, Australia has been hit the hardest. Millions of animals have already died and hundreds of homes have been destroyed. Not only has the dry climate affected the fires, but the fierce wind has caused the fire to spread. The fire has somewhat been detained due to the fact that it has rained. Since it is the hottest month in Australia right now, no one knows when the fires will be completely destroyed. Many celebrities and political leaders have raised awareness for the fires as well as money. For example, Kylie Jenner donated $1 million to the Australian Bushfire Relief organization. There are many other organizations to donate to including; The Salvation Army, Australian Red Cross Disaster Relief and Recovery, Vets Beyond Borders, The World Wildlife Fund, and many more.  This event has raised questions about climate change, and how countries are being affected by it.
Royal Family Split
On May 19, 2019 Meghan Markle and Prince Harry got married. After the birth of their firstborn son, Archie, everything changed.  Recently, Meghan and Harry decided to step down from their titles and remove themselves and their son from the royal family. Everyone around the world has been questioning why they would want to step down from their titles. About a week after the news broke, the whole royal family had a meeting about the decision with Meghan and Harry. Even though the meeting was not public, Queen Elizabeth put out a statement. The queen understood and accepted the couple's decision. Since the meeting, Harry, Meghan, and Archie have gone to Canada. It is still unclear where the young family will reside.
January Democratic Debate
With the 2020 elections are approaching, there are many Democratic candidates in the running for president.  Kamala Harris and Corey Booker have dropped out of the race leaving six candidates to debate it out on stage. On January 14, 2020, six of the twelve candidates qualified for the democratic debate. The six candidates were: Tom Steyer, Elizabeth Warren, Joe Biden, Bernie Sanders, Pete Buttigieg, and Amy Klobuchar. The debate allows each candidate to promote their presidency by voicing their opinions on certain topics. All of these debates inform the public on each candidate's views so that when the democratic primaries roll around, voters are educated on each candidate to make a uniformed decision as to who they will vote for.
About the Contributor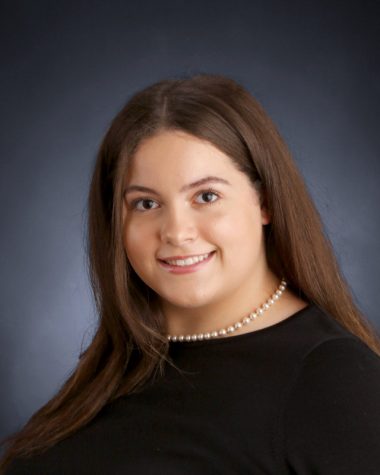 Violet Chube, News Editor
The Crown welcomes Violet Chube to the staff this year. Violet is a member of Regina's Green Paws Club and is also a Peer Advisor.

Outside of school,...