Athlete of the Week: 8/31/2020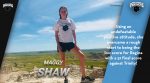 Regina Dominican golfer Maggy Shaw was chosen as the Athlete of the Week for the week of August 31-September 5th.  Maggy was chosen because of her low score in the Trinity match and her overall attitude.  Maggie was nominated by her coach, Elizabeth McCann.
BM: Congratulations on winning the Athlete of the Week award for the week of August 31-Sept. 5.  You were chosen because of your low score in the Trinity match and your overall attitude. How does it feel to be chosen as athlete of the week?
MS: Fantastic, I'm reflecting on how far I have come as a golfer.
BM: What is the best part about being on the golf team at Regina Dominican?
MS:  The coaches and my fellow teammates. I'm always happy to see them and they always cheer me up. We always have a fun time when we're together
BM: How long have you played golf?  Do you have a favorite course?
MS: I have been playing for as long as I can remember, my dad used to bring me along with him while he practiced and I just picked up the game. It's been a big part of my life. My favorite course is the course at Skokie country club.
BM: Would you rather hit out of the sand or the rough?
MS:. Rough
BM:  What is your favorite golf movie?
MS: Caddyshack.
BM: Ok, some rapid fire questions:
MS: Favorite class? Tech theatre
MS: Driving range or mini-golf? Mini-golf
MS: Favorite song?  Don't really have one right now but I'm listening t a lot of 80's
MS: Favorite Food: mac and cheese (preferably from noodles n' company)