Athlete of the Week: 10/5/2020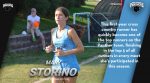 Regina Dominican Cross Country runner Mary Storino has been named Athlete of the Week for the week of October 5-10.  Mary was nominated by her coach, Scott Bohlke.  She was chosen because of her coachability and because she has been a top 5 runner in every race this year.
We were able to catch up with Mary for a brief interview.
BM: Congrats on being named the Athlete of the Week. You were nominated by Coach Bohlke.  You were chosen because you have been a top 5 runner in all of the meets that you have competed in this year.
How does it feel to be the athlete of the week?
MS: It's very exciting and feels good because I've worked really hard so far this season. I didn't know what joining Cross Country would be like, but I did not expect it to be this difficult. That being said, I wouldn't change a thing about and I'm so happy I decided to join this year.
BM: How has this year been different to previous years Cross Country?
MS: This is actually my first year of Cross Country, but so far it's been great! It's extremely challenging and sometimes very uncomfortable, but nothing in the world compares to the feeling it gives you. I always feel so accomplished once I finish a race or set a personal record.
BM: What was your best meet this year?
MS: My best meet was the first one we had at Beacon. It was my first 3 mile race and I set a record for myself there that I still haven't beat.
BM: Do you have a favorite course?
MS: My favorite course is the one at Beacon. There aren't many hills and the grass is never too high. I also like the size of the laps- it's a little less then one mile per lap.
BM:  What else are you involved with at Regina Dominican?
MS: Something else I'm involved in at Regina is soccer. For non athletic activities, I love to participate in the clubs! Some of my favorites that I'm in are Erika's Lighthouse, Orchesis, Green Paws, and Ambassadors Club!
BM: Ok, some rapid fire questions:
MS: Best Chicago Pizza: Lou Malnatis
MS: Coffee or tea? Tea
MS: Favorite subject in school? Spanish
MS: Favorite Season? Spring
Thank you! Best of luck as you continue your season!