Athlete of the Week: 10/12/2020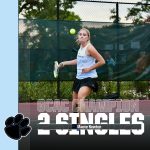 Regina Dominican Tennis player Maeve Newton (along with Laura Strenk) were named Athletes of the Week for the week of October 12-17.  Both Strenk and Newton were chosen because of the fact that they won GCAC Tennis titles on Saturday at XS Tennis.  For Strenk, this was her 4th title (2020-#1 singles, 2019-#1 singles, 2018-#1 singles, 2017-#2 singles), while for Newton, this was her 3rd title (2020-#2 singles, 2019-#2 singles, 2018-#3 doubles).
We were able to catch up with Maeve for a quick interview.
BM: Congrats on being named the Athlete of the Week. You were chosen because you won GCAC Tennis titles Saturday at XS Tennis.
How does it feel to be athlete of the week and be able to defend your championship?
MN: It's a great feeling being able to defend the title and be named the athlete of the week, but none of that would have been possible without our coaches and teammates keeping us on a track to victory.
BM: Your team has had a nice year, finishing 2nd Saturday, and going undefeated in GCAC dual matches.  How has it been  this year being on the team?
MN: the team morale has been great. We like to have fun, stay competitive, and make each other better every day.
BM: Postseason starts this week.  Are you excited?
MN: Yes! We've worked so hard as a team and now we get to take it to the next level!
BM: Ok, some rapid fire questions:
MN: Best Chicago Pizza? Gino's East
MN: Favorite Tennis player? Serena Williams
MN: Favorite class? Yearbook and journalism
MN: Favorite Chicago Sports team? The Chicago Sky