Swim Team Going Strong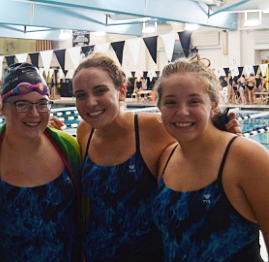 With the cold weather just around the corner, Regina Dominican's swim team has taken advantage of their season.  The swim team is going strong with a dedicated group of swimmers. This year's team is composed of 5 skilled swimmers:  Stephanie Zalinksi '17, Julia Rottman '17, Murphy Weiland '18, Liz Stutz '18, and Alex Sweilem '19.
The swim season is a long season going from August to mid-November, which includes  conferences and sectionals. The swim team practices at the local Jewish Community Center in Northbrook where they spend their time doing various drills, practice strokes, and working out.
"Swim team is doing fantastic right now," said Alex, "we're getting along and having fun."
Head coach, Ashley Thielsen, is focusing on setting team goals and moving the team for the upcoming years.
Thielsen said, "Our goals this year have been to continually set personal best times. So far, we have had a good deal of success with this…I would love to see an increase in numbers on the Regina swim team."
"
"..This year's team stands out for their dedication. What we lack in numbers, we surely make up for with dedicated swimmers who are motivated to continually improve""
— Coach. Ashley Thielsen
Overall, the swim team's success boils down to their determination and teamwork toward each other and to Regina.
Hang on for a minute...we're trying to find some more stories you might like.