Q & A with Varsity Basketball Captain Isa Krebs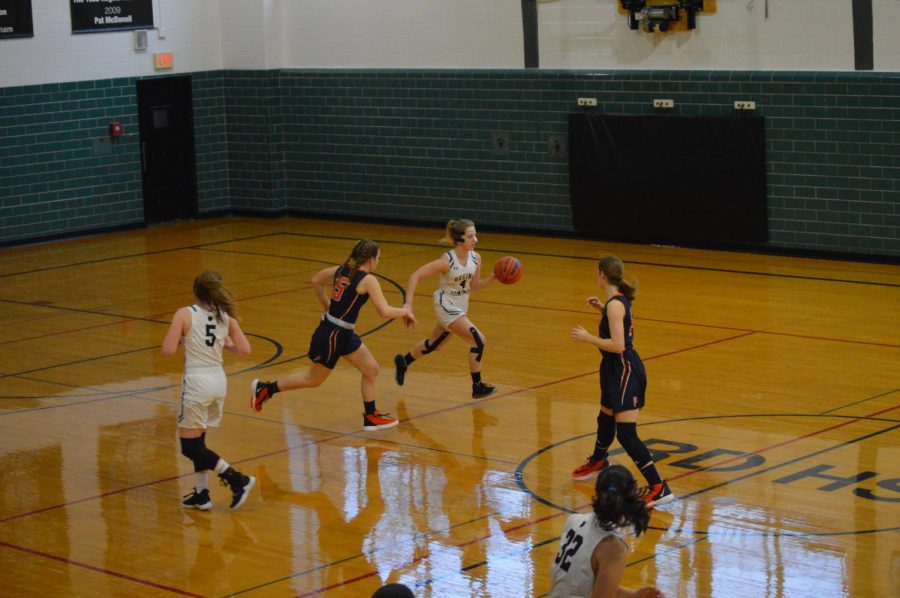 Carrie Hines, Contributing Staff Writer
February 9, 2020
Senior, Isa Krebs is a 3-year varsity player and a key ball handler on Regina's varsity basketball team. 
Why do you play basketball?
I play basketball because I love the sport. I have been playing since I was in second grade and I have always found it to be a fun way to spend time with friends and participate in a competitive sport. 
Do you get nervous before or during games?
Usually, I do not get nervous before games. If it's a big game, sometimes I'll have some natural nerves, but I work to not let it deter my play. 
How do you deal with the pressure of having to play in front of a big crowd?
In front of big crowds, I try not to let them affect my game. I try to focus on the game and my coaches. However, I do get energized and determined by the noise and people in the crowd. 
Do you have any superstitions or "pregame rituals"?
Before all away games I listen to my "hype" playlist so that I can get motivated and excited for the game. 
Are you planning on furthering your basketball career past high school?
After high school, I do not intend to further my basketball career, although I may participate in a rec league in college. 
What advice has a coach given you that you'll always remember?
The best advice that a coach has ever given me was in grade school when my coach told me that "if I put in the work and strived to become the best I could be, I could go on to do great things."
Is there a particular significance to your jersey number?
During my elementary school basketball years, I wore the number 4, which made me want to continue wearing the number in high school. I chose this number because my basketball role model, Skylar Diggins, wore the number 4. 
What was the most important game you have played at Regina? Why?
The most important game I have played at Regina was our regional final win against Timothy Christian. Many people did not believe we would win or even make it to regionals, which made it so much better to win. The game showed how all of our hard work and preparation finally came together for us to attain success.