Insight Into The Regina Swim Team and Their 2019 Season
Hang on for a minute...we're trying to find some more stories you might like.
This sports season was quite the success for Regina's swim team!
After reaching out to swim team member Kayla Smith, class of 2021, we get to see just how the swimmers have felt they've done this season through her eyes. From the beginning of the season to now, in Kayla's opinion, every single member of the team has improved greatly,
Kayla said, "Some of us are new to swimming this year and it's amazing to see how good everyone has gotten and how much we've all grown."
The swim team attended their conference meet on November 2nd, and the team did extremely well. In each event, a team member swam in, each swimmer either met their best time or even beat it. This was a big goal that the team had set for themselves. From this, multiple team members will be attending sectionals the following weekend.
The team's collective goal for the next season is to keep improving, keep beating their times, and to continue to put 100% effort into their goals and their swimming.
Kayla's favorite part about being on the team is the strong friendships that she formed with the other team members. She said, "As a whole, we have formed such amazing friendships that make the team so much more fun."
Congratulations to the swim team. The Panther Community is proud of you!

Hang on for a minute...we're trying to find some more stories you might like.
About the Writer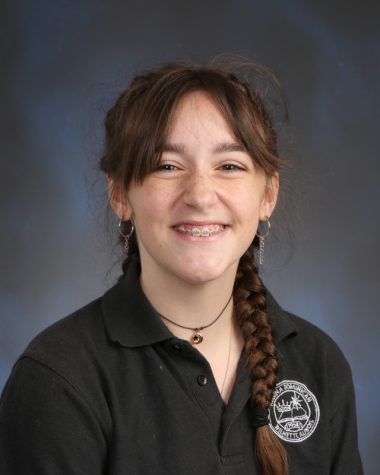 Kate Crawford, Staff Reporter
Kate Crawford is a junior a Regina Dominican. In her spare time, she loves to read and write, especially opinion pieces. Kate is a former swimmer, current...