Golf Season Wrap Up: Small But Mighty!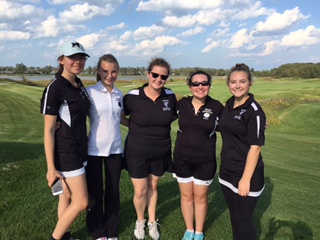 Regina's Varsity Golf team this year consisted of Kaitlyn Alleman '17, a senior captain; Sydney Olson '17, a senior captain; Jillian Seifret '20 and Kylie Hedlund '18. Although there were only five team members, it did not stop the team from competing and finishing with sixth place overall in Regionals. They ended with a record of two winning matches, one against Taft High School.
Senior captain Kaitlyn Alleman '17 said, "My favorite match was when we beat Taft High School. We all had really good scores that day. I had the lowest score, with a handicap of +7 and was the medalist. Jillian Seifret '20 also did especially well during that match."
Alleman also said that the team had improved their scores since last year, and keeping in mind the size of the team; they did the best they could with what they had.
Leaving the team, Alleman wants to encourage the team to practice their skills and and stay focused on themselves, not the opponent.
What seems to be a reoccurring theme among Regina sports teams is the players love for their team, the special chemistry and the love of the game. With the help of coach Elizabeth McCann, the golf team, overall, had a very enjoyable season which only made playing easier.
Hang on for a minute...we're trying to find some more stories you might like.