Veronica Arends Enthusiasm Lights Up Regina's Hallways
The Regina community is proud to welcome Veronica Arends to Regina Dominican! The school is so lucky to have her here. She is the marketing and enrollment coordinator, who works alongside Mrs Michalek.
Veronica Arends is a Michigan girl, born and raised. She went to high school at Byron Center High School, where she fell in love with fashion, her inspiration being Anna Wintour and Vogue.
She earned her college degrees majoring in both women in gender studies, as well as history. Mrs. Arends was able to graduate early from Grand Valley State, because she created the major, "women in gender studies." Mrs. Arends is a driven, independant woman, who is ecstatic to be here at Regina.
Mrs. Arends home life consists of her college sweetheart/husband, Sean Arends, and their daughter Idina. They also have three dogs, whom they love and care for. You might find Mrs. Arends running, reading, or even gardening when she isn't taking photos, creating advertisements, working for the Panther and Promotions Club, or even running the social media for Regina.
If you've ever met Mrs. Arends, you know that she is not shy in the least. "I will talk to anybody about anything," she said.
Veronica Arends is the definition of a stereotypical basic "fall girl." You can either witness this through her Pumpkin Spice Latte or even her Halloween villages she spends time crafting.
Mrs. Arends chose to bring her many talents to Regina because of her daughter, Idina, who is a seventh grader at St. Athanasius. Regina Dominican is the main high school choice for many St. Athanasius students. Veronica Arends saw a job opening, and had a gut feeling, "this is it." Mrs. Arends loves the aspect of it being an all girls school, with Idina walking the halls soon.
Leave a Comment
About the Contributor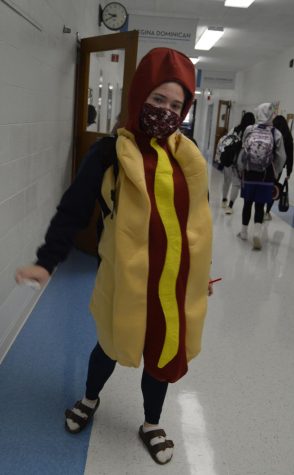 Margaret Clancy, Staff Reporter
Margaret Clancy is a junior at Regina Dominican. She is an enthusiastic girl who loves to dress up as a hotdog. Some people know her by her alter ego,...