Varsity Volleyball Wraps Up Its Season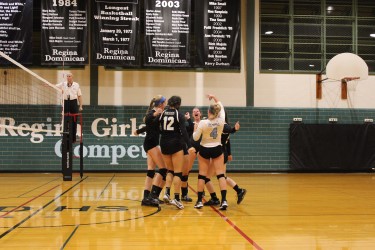 While Volleyball season is not over yet, the team is approaching its season's end.  Although there were some tough loses and a few bumps in the road, the team remained determined and very competitive. At press time, Regina's volleyball team has a record of 16 wins and 19 loses, including tournament games. Although they have lost more games than they have won, a record can not show the dedication or heart they have put into the season.
Varsity Coach Robert Hughes said "Overall, I think the season has been good. I was happy with our start and we've remained  pretty competitive. Obviously though, I'd like to see a few more wins for us and definitely would have preferred a different outcome of the Res match. The team though is working hard and still wants to fight for a strong finish."
Unfortunately, the varsity team did not take home a win against Res, however, they put up a good fight and Regina's student body, as whole, showed tremendous class while competing against our biggest rival.
According to Hughes, the team has not only been developing their individual skills, but also have done a great job working together on the court. It is clear that over the years the varsity team has worked together, they have become very close. This family atmosphere made senior night a very sad one.
Varsity player Kelly French '18 said, "There are 8 seniors on the team so not having them next year is going to be very different." It will definitely be sad to see the seniors go, but that only means adding more girls to the team to carry on the same unity.
Aside from wins and loses, Coach Hughes is very proud of how his team has rebounded from tough losses and is constantly working on bettering the team. Volleyball requires a lot of hard work and dedication and this year's team did a great job of that. Players came in for off season workouts while playing club volleyball and also participating in other sports. Coach Hughes hopes that this carries over into next year and that they can use what they learned this year to make next season a successful one.
Overall, he is very proud of his team and said, "My proudest moment from the girls is the unity, love, and support they shared for Regina Trejo '17. Trejo demonstrates how strong a person she is while dealing with the loss of her father during the season, but what the players and her classmates have done has been awesome."
Winning season or losing season, the Panthers take home the trophy when it comes to a hardworking, dedicated team!