Varsity Basketball Playoffs Begin With Team Led By New Coaching Staff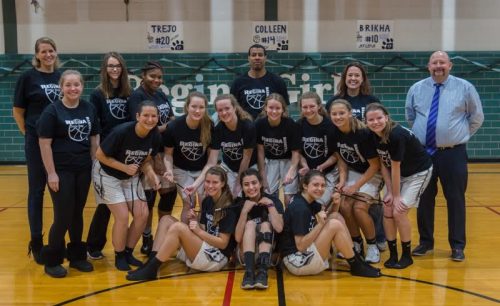 Although the Regina basketball season is coming to an end, playoffs are just beginning. The team is currently 8-16 with at least 5 games left.
With an entirely new coaching staff, from the top to the bottom of the program, there has been an influx of new teaching styles and ideas. The basketball season this year, beginning in November, has been a time of growth, improvement, and new opportunities.
When asked about the season, junior player, Grace Owens stated, "Well, this season we have really grown and we are turning into a very cohesive team."
Most members of the team agreed that there have been a lot of changes this year, but most of them were for the better. As of right now, the team's record already surpasses last year's season record. This year's varsity team contains three senior members, Mary Brikha '17 and captains Regina Trejo '17 and Colleen Palmer '17,. All three were recognized at their Senior Day game on Jan 14.
The team is now competing in conference games against fellow teams within the Girls Catholic Athletic Conference (GCAC). This conference is divided into three divisions: red, white, and blue. Regina is a member of the white division.
During the regular season, teams usually play other schools from the same division; however, during the conference tournament, they play teams across the divisions. Regina has already faced Trinity and is scheduled to play Rosary on Jan 31.
Like all other girls basketball teams in the state, Regina's season will come to a close after the Illinois High School Association (IHSA) tournament. This is a single elimination tournament which is comprised of every team in the state, public or private, Catholic or not.
The team is working hard in hopes of going far in both the GCAC and IHSA tournaments. With a newfound outlook on the game and teamwork, their future looks bright heading into playoffs.
Hang on for a minute...we're trying to find some more stories you might like.