Track Is Racing through Outdoor Season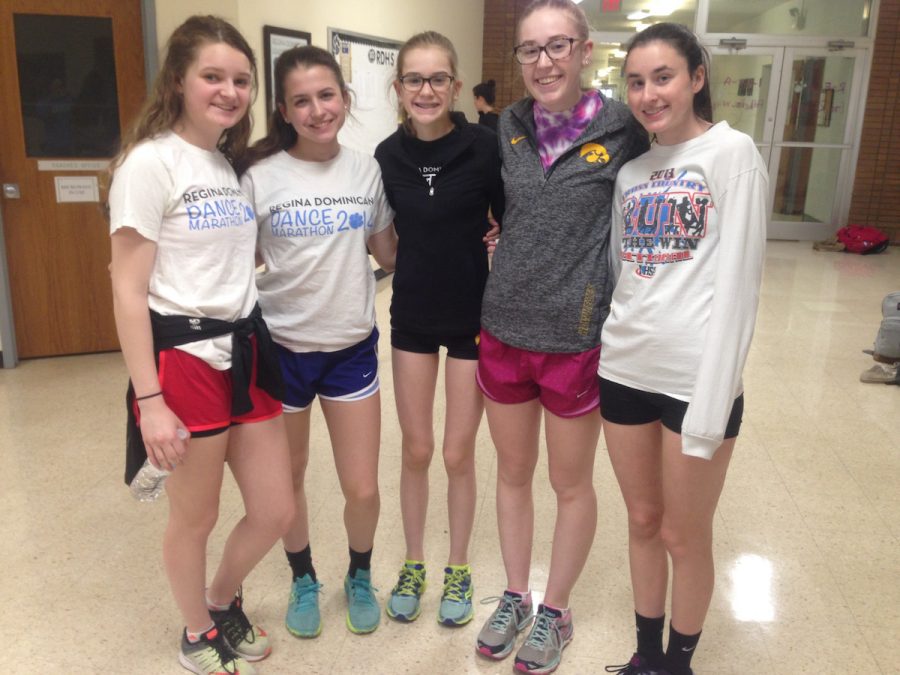 Mary Berg, Editor-in-Chief
April 22, 2016
Regina's track and field team is racing through their outdoor season, leaping over every hurdle that stands in their way!
"For a smaller team, we do really well," says Head Coach Scott Bohlke.
Mr. Bohlke is assisted by Ms. Block and Ms. Bohlke. Alongside captains Ellie Spina '16, Gracie Simon '17, Kelly Richards '17, and Colette Cooney '17, they have led the team through a steady improvement as they have progressed throughout the season. The relay teams have especially made significant progress, and many runners have beaten their own personal records time and time again.
Most notably so far this year, Colette Cooney has achieved a 2:34 in the 800-meter. This is a feat that has not been accomplished by any Regina track athlete anytime in the last decade, says Coach Bohlke.
These achievements would not be possible without a dedicated practice schedule. Every day, the team practices for about an hour. Their daily routine includes a warm up, stretching, and running that focuses on sprinting, distance, or stamina. They also often do ab, leg, or arm workouts and talk about their upcoming meets.
However, the team is not all work and no fun. The track team is a very tight knit group that is very positive and supportive.
Gracie Simon '17 says, "I love the environment and the way that we encourage each other. Everyone gets along very well, and the team is really great."
They also have formed a strong bond with their coaches, says Colette Cooney: "Mr. Bohlke is one of my favorite parts of the team because he always makes my day better. I also love to be with my friends and teammates everyday."
As the team approaches the end of their season, they still have several goals left to meet. Most runners still want to achieve more personal bests, and the team wants to beat their Resurrection High School rivals at the GCAC meet on May 7. They are hopeful that they will achieve this goal, and will continue to work hard in order to do so.
Go Panthers!