Time to Tie up Tennis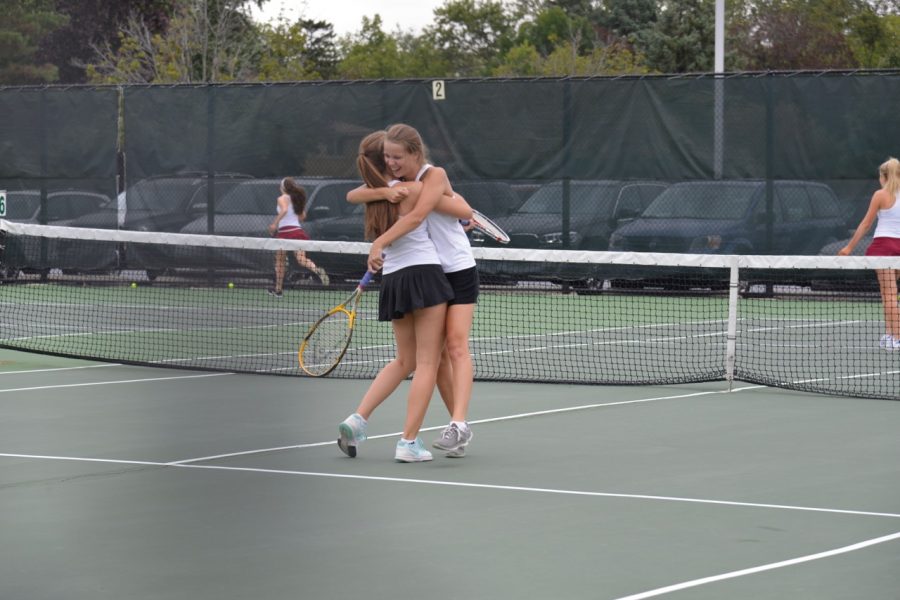 Tennis has ended after a winning season for both the varsity and junior varsity teams. The junior varsity team came in first place while the varsity team finished in second in the GCAC white division.
Despite a rainy day on Sunday, Oct. 2, the junior varsity Panthers prevailed. First place finishes went to Hailey Hoffman '18 for first singles, and Elizabeth Loeher '19 and Ann Schultz '19 for second doubles. Second place finishes were awarded to Cece McNeely '19 for second singles, Meagan Murphy '18 and Katie Burke '18 for first doubles, and Vivienne O'Bryan '18 and Reilly Becker '18 for third doubles.
On Saturday, October 8, the varsity tennis team pulled out a second place finish in conference while playing at both Regina and New Trier courts.
Grace Tamisiea '18 fought hard for first place in first singles. Nora Loftus '17 and Miranda Radtke '17 came in second place for second doubles, and finishing out the Regina Tennis victories, Barbara Schultz '17 and Floriana Hoxha '17 finished with a third place victory.
After winning Tamisiea said, "Winning the conference championship was awesome, but what made it so special was my family there supporting me continuously throughout the match. I could not have done it without them or coach, cheering me on every point."
Towards the end of the season, the team hosted a teacher night where the teachers and administration came out to the courts to play short sets with the players. Another interesting event that the team did during the season was family night. They had parents, siblings, aunts, and even grandparents come out to play with them.
Both of these events are starting to become a tradition, being that this was the second year in a row that they have hosted both teachers and families.
Although the tennis season ended, the team stayed involved by volunteering at a Halloween themed soup kitchen at the Mission of Our Lady of the Angels in Humboldt Park. The girls that went said they had a great experience helping the kids of the neighborhood pick out costumes donated by the Saint Paul of the Cross Parish.
All in all, the 2016 Tennis season was a complete success. This team was a fun, open, and energetic community of girls who just loved to play tennis.
Hang on for a minute...we're trying to find some more stories you might like.