The WYSE Team Is Wise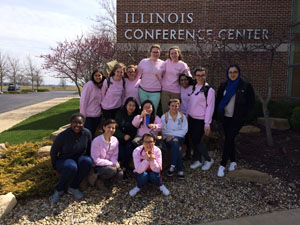 Regina Dominican's WYSE team just finished with a very successful season. The team advanced all the way to the state competition and brought home many medals.
WYSE stands for Worldwide Youth in Science and Engineering. WYSE is an academic competition held throughout the state of Illinois, sponsored by the University of Illinois at Uraban-Champaign. When a student participates in the competition they must compete in two subjects, which include biology, chemistry, english, mathematics, and physics. These subjects are coached by teachers at Regina Dominican. The teacher typically meets with the girls in that subject once a week. This involves a lot of hard work because the girls need to meet with two teachers a week to practice for the competitions.
Mr. Finder said that, "28 students were selected by the Regina coaches to represent the school at the regional competition at the beginning of the season."
At the regional competition, Regina took first place with 467 points total, and had many individual medalists in each subject. Regina beat IC Catholic Prep and Christian Heritage, which advanced the team to the sectional competition.
The sectional competition was held at Vernon Hills High School, and at this point, the team was then to 14 Regina students. Again, the Panthers placed first in their division, with many individual medalists. This allowed them to advance to the state competition, which was held at the University of Illinois in Urnana-Champaign. At state, the Panthers placed 9 out of 27 schools in their division, and Sunny Xu placed 6th in the state in physics.
The WYSE team's hard work definitely payed off as the team won many competitions and placed higher than many other competitive schools.