The Volleyball Team Digs Deep for a Great Season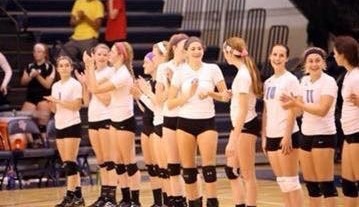 Kathryn Cressy, Staff Reporter
September 14, 2015
As the volleyball season gets underway, the team is already working on perfecting their goals for the 2015 season.
"We've had some bumps and bruises. But it's all starting to come together," said volleyball coach Bobby Hughes. The players are now starting to find their role on the team. "I'm really happy with the progress the girls are making," continued Coach Hughes.
Senior captain Kayley Philbin adds, "We have a pretty strong team. We just have to fix a few things to make everything work." Philbin remarks on team's goals for the season– "To have a winning streak and do better than last year," she explains.
Coach Hughes says the volleyball team's main goal is to create success on the court, but not in terms of winning and losing. The girls mainly strive to come together on court and become a family.
So far, Coach Hughes says that the varsity and junior varsity are setting a strong beginning to the season. There is no doubt that this hard-working team is a force to reckoned with this season.