Staff Profile: Ms. Laura Kaplan
Paws up to our newest member in the Regina community. Meet Ms. Laura Kaplan!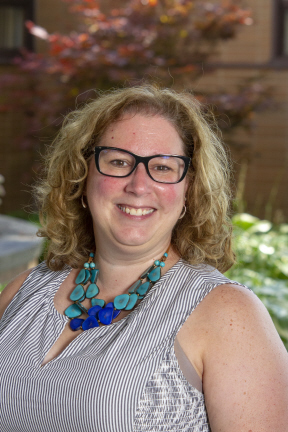 Grace Steffen, Staff Reporter
October 22, 2019
This year Regina Dominican High School had several additions to the faculty and staff. One of the new faculty members for the math department is Ms. Laura Kaplan. Ms. Kaplan is a graduate of The University of Illinois where she majored in business and psychology. While at the University of Illinois, Kaplan studied abroad at New South Wales, Australia and was also an active member of her sorority serving as an officer. After she attended The University of Illinois, she earned her teaching certificate at Eastern Michigan University and her masters in education at Michigan State University.
Before teaching at Regina, Ms. Kaplan was the director at a Sylvan Learning Center. After that position, Ms. Kaplan taught at The Chicago Academy of the Arts. Ms. Kaplan loved seeing the creative performances at the Academy of the Arts and is looking forward to seeing the Regina production of Wizard of Oz. Ms. Kaplan is excited to embark on her twentieth year of teaching at Regina this year. Ms. Kaplan enjoys the variety of personalities the girls at Regina have and loves interacting with students and feeding off their energy.
When Ms. Kaplan is not working with students, she enjoys scrapbooking, spending time with her kids, and reading. Her recent favorite read was "Beartown" by Fredrick Backman. In her free time, Ms. Kaplan also enjoys learning new, innovative ways of teaching math.
When asked to describe herself in one sentence, Ms. Kaplan said, "I am quiet until you get to know me, creative, and always looking to learn".
Regina is so excited to welcome Ms. Kaplan to the Regina community.