Softball Season Still Going Strong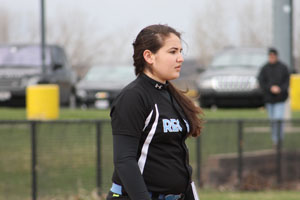 The Regina softball season is in full swing.  Returning as JV coach is social studies teacher, Jennifer Gianos. The new varsity coach is IT specialist, Charles Rocha.  The team practices every day and often on Saturdays, while playing a full schedule that began in March.  Like other spring sports,  home games are held at Regina's home field at Techny Towers, which is also home to the Panthers' soccer and lacrosse teams.
The varsity team is led by captains Meghan Joyce '18, Lauren Murphy '17, Emily Herberg '16 and Karlyn Manley '16. At the time this went to press, the varsity team has had 3 wins and 19 losses.
Captain Lauren Murphy '17 says, "Even though there were not many wins, we learned the strengths and weakness of our fellow teammates and hope to improve as a team for the rest of the season."
The varsity team continues to work hard in practice and on the field hopeful they will win a few more games before the season comes to an end.
The junior varsity team is having an outstanding season. They are currently 1st in their conference as they have won 7 games and lost only 2. The team is tightly knit and works well together. The JV team is very excited to see how the rest of their already successful season will play out over the course of the next few weeks.