Reginites for Life Narrowly Escape East Coast Blizzard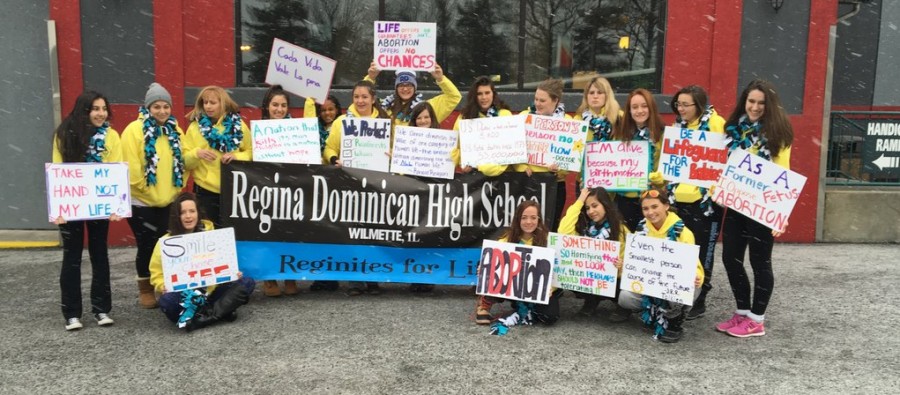 Mary Berg, Editor-in-Chief
February 1, 2016
Every Regina girl knows about Regina Dominican's annual trip to the March for Life in Washington D.C. led by our very own science teacher, Mrs. Wildman. Typically, the Reginites for Life go on a pilgrimage to Washington D.C. where they attend several masses and pro-life gatherings, march in front of the Supreme Court building with hundreds of thousands of other pro-life supporters, and then do some sightseeing in our nation's capital. However, this year, the trip was severely affected by the massive blizzard that hit the East Coast on Friday, Jan. 22. Our Reginites barely had left Chicago before the blizzard hit and shut down the entire city.
On Wednesday, Jan. 18, 16 students and five chaperones from Regina Dominican departed from Chicago after school to go to Washington. They traveled with other pilgrims from the Archdiocese of Chicago. The large group traveled solely by bus, which is a 16-hour trip each way including rest stops. Regina students shared their bus with students from Carmel Catholic High School in Mundelein.
The Reginites for Life arrived in the Washington area at 12 PM on Thursday, Jan. 19. They promptly checked into their hotel to shower and change. After washing up, they created original signs and posters to march with that displayed pro-life quotes and ideas (these posters can now be seen in Mrs. Wildman's room). That night, they headed to George Mason University for a youth rally.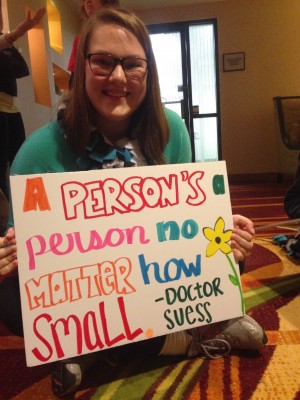 There were a few well-known Catholic musicians and speakers that performed, and the night concluded with Adoration of the Blessed Sacrament.
On the morning of Friday, Jan. 20, the Reginites knew that Winter Storm Jonas was approaching. They were told that in the interest of everyone's safety, they would be leaving Washington D.C. immediately after marching, cutting the trip almost two days short. Nonetheless, they proceeded to go to a morning mass also held at George Mason University.
After mass, the Reginites were given a hot lunch provided by Chick fil-A, and they boarded the bus to head downtown to the March for Life. However, once they were all seated, the bus captains announced that they would be departing for home directly from the University so as to avoid dangerous road conditions on the return. They were not able to March for Life in the capital. Many marchers were quite disappointed, yet this proved to be a very wise decision.
The blizzard that swept through Washington D.C. and much of the rest of the East Coast that weekend was one for the books—11 states declared a state of emergency, and up to 42 inches of snow fell over the course of the weekend. 31 people died either directly or indirectly as a result of the storm, and over 11,000 flights were canceled at Washington D.C.'s Reagan and Dulles Airports.
Road conditions also were exceptionally dangerous for almost the entirety of the weekend. Residents of almost every East Coast city were advised not to drive unless absolutely necessary during blizzard conditions.
Washington D.C. itself historically has not handled snow very well, and this storm was no exception. U.S. federal government offices closed early on Friday and stayed closed until Tuesday. Schools in the city were canceled from Friday, Jan. 20 until the following Tuesday, or in some cases, even until Friday, Jan. 27. The streets were not finished being plowed until Monday night,  which could have potentially stranded our Reginites in Washington until Monday if they had not left early.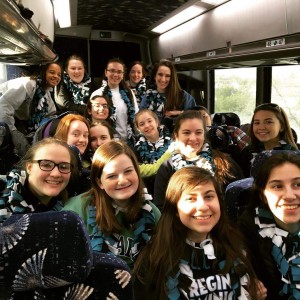 Additionally, 5 buses headed back to the Midwest from the March for Life became stuck on the Pennsylvania Turnpike on Friday evening. The students and adults were stranded on the highway for over 20 hours, and had to be rescued by the National Guard. The Regina marchers could certainly have been passing through that location at the time the buses were stranded had they stayed only a few hours longer in Washington.
Overall, even though they were not able to march, the Reginites had a rewarding experience representing the pro-life movement. Storm Jonas could have been very problematic, but thankfully, every Regina student and chaperone returned home safely.