Regina Soccer Keeps Kicking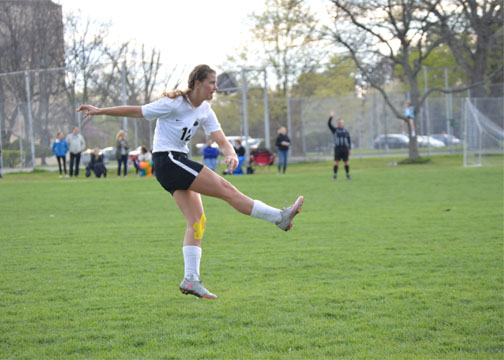 Regina Trejo, Music Editor
May 5, 2016
The Regina Dominican varsity soccer team has had a great spring season.
The girls recently celebrated their one senior, Sarah Allworth '16, in their victory against the Queen of Peace  on May 3.
The team has been struggling with numbers this season due to the multitude of other spring sports, but that has not stopped the team from playing their best!  Soccer requires 11 players per team on the field to play a game and the Panthers have just slightly more than that. This year there are 16 girls on the squad, but four players are out with either concussions or other injuries.
Coach Kyle McClure said, "The girls really love playing soccer, but it's just a shame that we don't have the numbers to show all of our talent."
The captains— Sarah Allworth '16, Claire Beiter '17, and Colleen Palmer '17—have done a great job this season of keeping the energy and spirit of the team up.
Palmer said, "We've really improved a lot from the beginning of the season. We're struggling in numbers but not in effort."
The Regina soccer team will continue to play hard for the rest of their season in regionals. Go Panthers!