Regina Coach Continues to Build Strong Basketball Program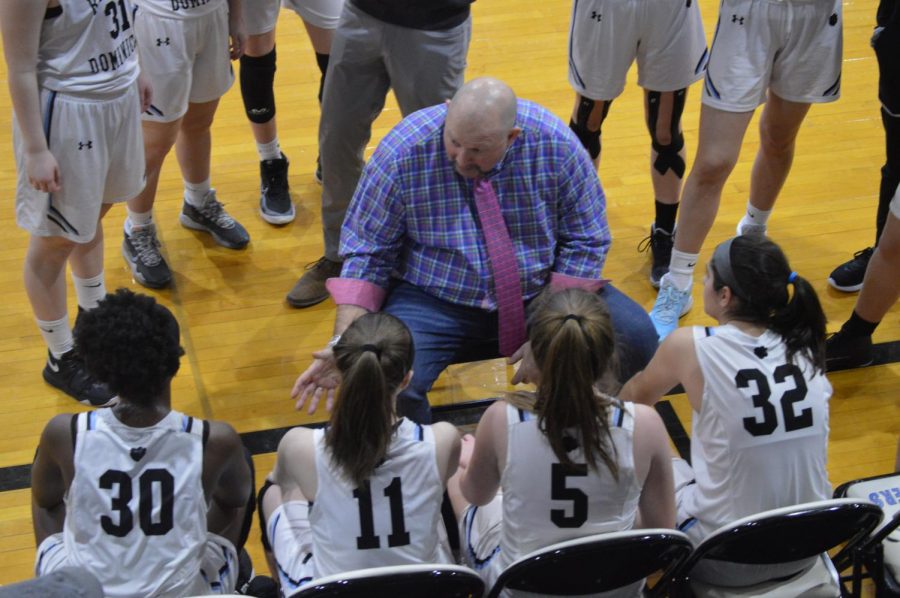 Anne Berg, Contributing Staff Writer
February 9, 2020
REGINA- Surely you remember when the Regina Varsity Basketball team dribbled their way to earn the spot as regional champions. The underdogs of the season fought their way into winning the most challenging game of the year. Regina has shown what they are capable of in the past, and this year they will only continue to improve. But what lies behind their story of success?
The answer to this question is Regina's Varsity coach, Bob Newton, who made his triumphant return in 2015 and has been leading the way for Regina ever since. Newton has drastically turned the basketball program at Regina Dominican around. Before his arrival, the strategy of the coach was to take the five best players and develop their talents to the best that they could be. As for the rest of the players, they would develop their talents as benchwarmers and practicing on the other end of the court. 
Coach Newton has a completely different philosophy. In a quick interview after the promising first game of the season, Newton remarked on how he grew the program from 17 players to upwards of 30 in an effort to add more diversity to the skills of the team with the addition of each player. Each new layer of skill only enhances the machine that is the varsity team. 
Coach Newton is Regina basketball's saving grace. Now instead of 5 developed players, there are more than 30, each with their own talents in different aspects of the game. He has multiple shooters, point guards, wings, and more, so that 5 individual girls aren't juggling it all at once. 
This year, coach has a mix of players with unique skills to help develop the team as a whole. Ranging from freshman to seniors, the talent pool this year hasn't been seen since the 2004-05 team, and with the help of Coach Newton, they will be unstoppable. 
Kendall William (Fr.) has shown great promise as a shooter, with 12 points in the first game. Laura Strenk (Jr.) has displayed her talents as a ball handler. Mia Krebs (Fr.) and Reganne French (So.) show no hesitation shooting outside the 3 point line. Seniors Isa Krebs, Nicolette Anichini, Nora Clancy, and Lola Simon add their skill as well as their veteran presence and steadiness. 
As this year  comes to a close, Coach Newton has led Regina to a grueling, but productive season, which will continue to build and finish strong each basketball season with Coach Newton at the helm.