Panthers Run Their Way into Spring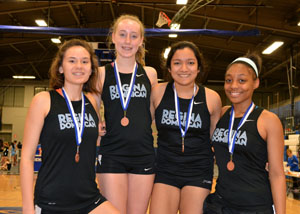 The Panthers track and field team are expected to have a successful upcoming season. The team is coached by Mr. Scott Bohlke, Ms. Bohlke, and Ms. Block.
This season 19 athletes make up the team, including five new freshmen and senior transfer student Sheelagh Walsh. The indoor season starts in January and ended March 19. Now, the team is beginning their spring, outdoor season.
Captains include veteran senior Ellie Spina and juniors Kelly Richards, Colette Cooney, and Gracie Simon.
The Panthers competed on March 19 for their indoor GCAC championships. After their indoor championship, the Panthers will continue competing in their outdoor season.
Coach, Mr. Bohlke says, "We're excited to get outside for both practice and meets.  We will be very competitive in the outdoor season where we'll get to compete against schools our size (including rival Resurrection several times)."
Track not only includes running, but high jump, shot put, and discus throwing. Coach Bohlke has high hopes for Krystyna Kaminski, Katie Clancy, Jenna Rozhon, and Sydney Moore . Bohlke thinks that they will do well in high jump, long jump, and triple jump.
Coach Bohlke also thinks that the team is going to preform well with sprints this season. He says, "We have a lot of depth in our sprints this year being lead by Ellie Spina, Kelly Richards, Erica Farfan, Kasmira Watson, Indigo Smith, and Sofi Yunex-Torres."
The team also has strong long distance runners.
"Our distance runners are veteran and look to be very competitive this season being led by 1600 meter standout Colette Cooney, cross country state-qualifier Helena Walo and Gracie Simon.  Juniors Kylie Moore and Sydney Olson will also be contributing as distance runners," adds Bohlke.
Rachel Lucas and Asia Harris are expected to be the teams' best shot putters and discus throwers.