Oprah Winfrey Does It All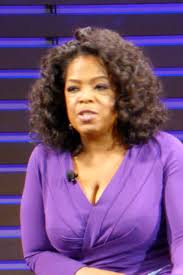 We all know Oprah Winfrey for her entertaining talk show, but she is also an American media executive, actress, television producer, author, and philanthropist.
Winfrey is one of the most iconic women in U.S. business history. Her best work is The Oprah Winfrey Show, a daytime talk show that ran from 1986 to 2011 in Chicago. The Oprah Winfrey Show became the highest-rated television program of its kind in the United States and Winfrey has received two People's Choice Awards for "Favorite Talk Show Host."
Oprah is also a dedicated activist for children's rights. In 1994, President Bill Clinton signed a bill into a law that Oprah proposed to Congress; it created a nationwide database of convicted child abusers.
In 2005, Business Week named Oprah the greatest Black philanthropist in American history. Winfrey is the richest African-American woman of the 20th century and North America's first African-American multi-millionaire.
In 2005, Oprah received a NAACP (National Association for the Advancement of Colored People) Image Award. This award has been given to prestigious people such as Aretha Franklin. Oprah was inducted into the National Women's Hall of Fame in 1994, and she continues to be immensely successful in production and publication.
With achievements in all of these areas, Oprah is a great role model for women everywhere.