No, Joe Biden is Not Adolf Hitler
Background
On Sept. 1, 2022, in Philadelphia, Pennsylvania, President Joe Biden spoke outside Independence Hall, describing what he called the "continued battle for the soul of the nation." In his speech, Biden condemned Donald Trump, arguing that the former president and his supporters (deemed "MAGA Republicans") posed a great threat to American democracy. Biden's remarks resulted in sharp criticism from many. Some went even further and compared the president to the Nazi leader Adolf Hitler. The most influential person to do this was politician Marjorie Taylor-Greene.
Original source of information
On her Twitter account, Taylor-Greene posted a edited clip from Biden's speech with swastikas added on the walls behind him and a dark mustache added onto his face. She tweeted: "What we all saw tonight from Biden. I guess when President Butterbeans is frail, weak, and dementia ridden, the Hitler imagery was their attempt to make him look 'tough' while he declares war on half of America as enemies of the state. Or it's real." Taylor-Greene also tweeted: "They chose this imagery. It's unreal. Joe Biden is Hitler. #NaziJoe has to go."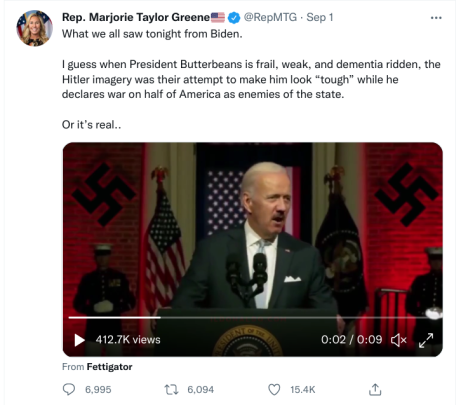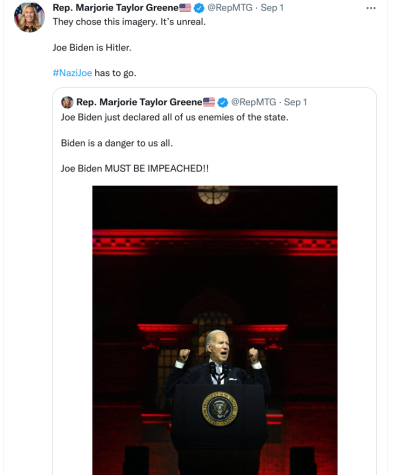 Screenshot of posts by Marjorie-Taylor Greene
Hearing the Nazi leader's name alone is unsettling to many. The idea of a Hitler-like person in power is even more terrifying. However, let's take a step back: is Joe Biden, America's current president, really akin to Hitler? In order to answer this question, we must examine why people on Twitter such as Marjorie Taylor-Greene are comparing the two. We must also ask: who is Marjorie Taylor Greene, and does she have any biases that, in the past, have caused her to spread misinformation?
Who is Marjorie Taylor-Greene? Has she made similar comments in the past?
Marjorie Taylor-Greene is the U.S. Representative for Georgia's 14th Congressional District. According to her website, she worked with her husband Perry to start and eventually sell a local CrossFit gym, which became one of the largest CrossFit gyms in the country. She also has a history of activism: she has been "actively involved in her community, in her children's schools, and been active on a national level as National Director of Family America Project."  Taylor-Greene is an avid supporter of former president Donald Trump and, like many other politicians, frequently uses her Twitter page to express her political views and advocate for causes she is passionate about.
Since the election of President Joe Biden, Marjorie Taylor-Greene has repeatedly drawn comparisons between his policies and events of the Holocaust. In May 2021, on Reuters website, she compared House Speaker Nancy Pelosi's mask mandate during the COVID-19 to Jews having to wear yellow stars during the Holocaust Recently, through her Twitter page, she also expressed anger about FBI raids on the homes of Trump supporters, calling the FBI "Biden's gestapo."
Are these comparisons accurate?
According to the Anti-Defamation League (ADL), an international organization dedicated to combating anti-Semitism, Holocaust denial and other forms of bigotry, "politicians, activists and other public figures often invoke inappropriate Holocaust comparisons to highlight the ostensible "danger" of a social or political act."  ADL also says that "in numerous cases, critics of lockdowns, mask mandates and other restrictions invoked Nazi and Holocaust-related imagery and analogies in an attempt to compare government officials to Nazis and their policies to the Nazi persecution of Jews during World War II."
After Taylor-Greene compared Biden to Hitler, ADL CEO Jonathan Greenblatt sharply criticized her for doing so. He replied to her tweet: "That a member of Congress would consider this funny, let alone acceptable is disgraceful. With one post and a doctored video, @RepMTG managed to trivialize Hitler and the Nazis' sheer evil and belittle the serious threat that extremism poses to this country. Absolutely shameful."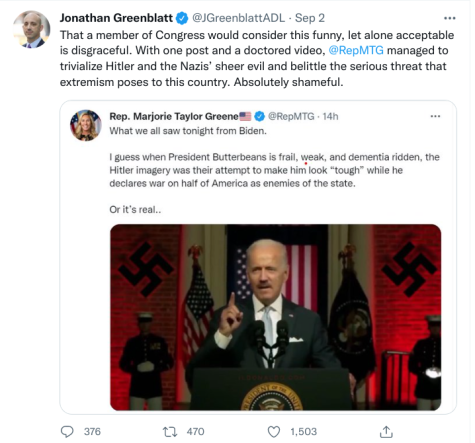 Rating
Not legit. The claim, photo or video is inaccurate or being taken out of context.
Leave a Comment
About the Contributor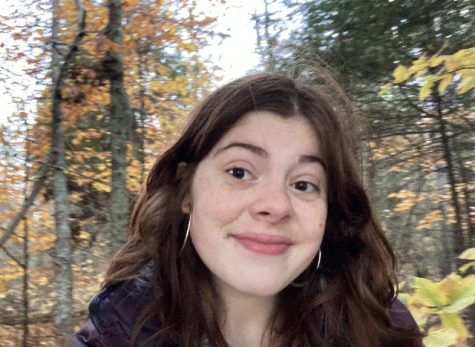 Mirai Silva, Staff Reporter
Mirai Silva '23 is a student reporting for the Crown. In her free time, she enjoys reading, writing, and crafting. Her favorite topics to write about are...