Mrs. Jasinski-Cima Makes An Exciting Return to Regina Dominican!
The Regina community has just recently welcomed back a familiar face to its hallways: Mrs. Jasinski-Cima! Mrs. Jasinski-Cima is returning after 3 years, after substituting for a teacher on maternity leave. 
Mrs. Jasinski-Cima is a jack of all trades. Before making her way here to Regina, Mrs. Jasinski-Cima attended the University of Illinois Urbana-Champaign, where she received a bachelor's degree in English with a minor in secondary education. Mrs. Jasinski-Cima is also endorsed in English as a second language instruction through the master's program with National Louis University. Impressive!
Here at Regina, Mrs. Jasinski-Cima fulfills the role of Assistant Director of Enrollment for the North Shore and Northwest Suburbs. She especially loves that she has the opportunity to work with students each day, while also meeting prospective panthers and families. Through getting creative through marketing campaigns, as well as collaborating with many of the staff and students,  Mrs. Jasinski-Cima is paving the way for a bright and innovative future for Regina. 
When asked about why she came to Regina, Mrs Jasinski-Cima responded,"I came to Regina because the sense of community and authentic care here is incomparable. I have the wonderful chance to work with stellar students and staff that are truly passionate for the advancement of young women and the mission to create a more just world. This common goal is shared among all of the folks in this special school community and I am so excited to be here and share in this!"
When she's not busy at work helping the Regina community grow and evolve, Mrs. Jasinski-Cima dabbles in a number of different hobbies. As seen through her work here at Regina, Mrs Jasinski-Cima is a very talented artist. She enjoys painting, drawing, digital art, and photography. Some of her favorite art to do is "pet portraits", which she always ends up getting asked to do for holiday gifts and birthdays among family and friends. 
She said, "It's always a joy getting to give the gift of commemorating furry family members."
Another interesting hobby of Mrs. Jasinski-Cima, is her love for motorcycles. Rooted in family and adventure, Mrs. Jasinski-Cima loves going on trips with her dad and sister, even going as far as Washington D.C.! However, she is hoping as she gets older, she can take more time to explore through riding. 
To Mrs. Jasinski-Cima, family is everything! She comes from a family of Polish immigrants, with her grandparents living through WWII in Poland, which she says has remained an influential part of her family's legacy. Her grandparents then all settled in Chicago and have been in the area ever since. Mrs. Jasinski-Cima's father owns a small business, and her mother works in healthcare. Her younger sister, a student at Loyola University, Chicago, is following in her mother's footsteps and is currently studying nursing.
 Mrs. Jasinski-Cima has also just very recently added on to her family tree, as she married her husband, Jesse, this year, and ended up gaining three new brother-in-laws. And finally, to complete the family, Mrs. Jasinski-Cima has gained the new title of 'proud dog mom' to a black lab named Luigi, whom she adopted this year!
Mrs. Jasinski-Cima would describe herself as, "a slightly nerdy, slightly quirky, but fully reflective and open-minded lifelong learner who is enthusiastic about growth, and spreading both creativity and kindness". 
Mrs. Jasinski also has a background in activism and advocacy. Her most recent advocacy effort was fundraising "Rally for Ukraine" to promote food and financial donations through the Palatine Ukrainian Youth Center. 
She said, "I was so excited that this event was attended by many members of my community and we had the chance to provide aid to those in need facing the wartime crisis in Ukraine."
To add to the list, Mrs Jasinski-Cima also takes great pride in her love for Star Wars, Marvel, anime, Avatar: The Last Airbender, video games, Dungeons and Dragons, and so much more. She says that if anyone ever wants to talk about any one of these topics, she is all ears.
Regina is so excited to have Mrs. Jasinski-Cima back to share all of her amazing talents and insights here in the Regina Dominican Community. Paws Up!
Leave a Comment
About the Contributor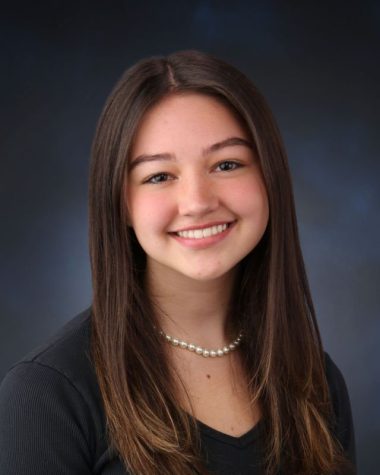 Grace Leahy, Staff Reporter
Grace Leahy is a senior at Regina Dominican High School. This her second year on The Crown and she fulfills the role of a staff reporter. Grace plans on...