Missing Glenview Man Iñaki Bascaran Found Week Later
A Nightmare Before Halloween
On the night before Halloween 2021, 23 year old Iñaki Bascaran went missing in the River North neighborhood of Chicago after a night hanging out with friends at a bar. ABC NEWS reported that Bascaran told his roommate he was heading home, but he never made it. Bascaran's body was found nearly a week later in the Chicago River.
"Late Friday, Chicago police said the man was found dead in the Chicago River. The body was found at about 5 p.m. local time, about 1 ½ miles from the bar where he was last seen," said ABC NEWS. 
Bascaran was from Glenview, Illinois, and attended the University of Illinois at Urbana-Champaign. He had recently moved to Chicago and worked in marketing. His friend, Kayli Fradin, told ABC NEWS that he was, "the life of the party" who "was always trying to make people laugh."
On October 30, Iñaki went to a bar in the Lincoln Park neighborhood with his friends. He then Ubered to another bar, Celeste, located in River North. 
ABC NEWS states, "Bascaran then called Fradin's boyfriend, who is Bascaran's roommate, on FaceTime at 12:04 a.m. to say he was going to start walking home. "But he was intoxicated enough at that point that he thought he was in Lincoln Park and we know now that he wasn't," Fardin said she and her boyfriend tried to track his phone location, but his phone was dead."
The next day, his phone was still dead, "and his bed was made." Iñaki's friend called the police. 
The police recommended calling a list of hospitals, but none had seen him. The police also started putting out a missing person's flyer. People started reposting the flyer on social media to make others aware of the situation.
Bascaran's family even hired private investigators.  Private detective Sara Serritella told ABC News, "They followed Basacarn's digital footprint, including surveillance videos from that night, but "the answers are not in the phones and the cameras."" 
She also told ABC News, "She said they're using drones, man power, digital forensics and "everything possible to try to get him home." 
An ABC 7 article, said, "Police said the Marine Unit recovered Bascaran's body from the Chicago River around 4:53 p.m. on Nov. 6 near the 1000 block of S. Wells St." 
A student from Regina, Sophie Heimann '22, lives near the Lincoln Park neighborhood and was asked if she feels safe in that neighborhood and her feelings about this all.  Heimann said, "Yes, I grew up in that neighborhood and I feel very safe. Over the summer, we even walked to the beach in the middle of the night and felt safe. "I feel really bad. It's awful, what happened to Iñaki."
Medical examiners said his cause of death is pending. Funeral services were held on Nov. 10 at Glenview's Our Lady of Perpetual Help.
Leave a Comment
About the Contributor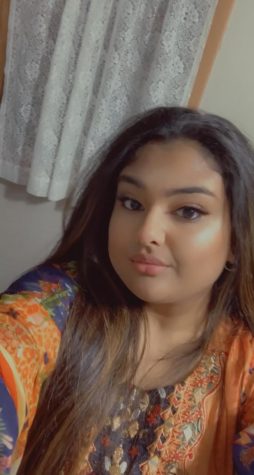 Sania Moinuddin, Staff Reporter
Sania Moinuddin is currently a junior at Regina. During her free time, she loves to annoy her family because why not. She loves jamming to Bollywood songs...