Misericordia Makes a Great Service Opportunity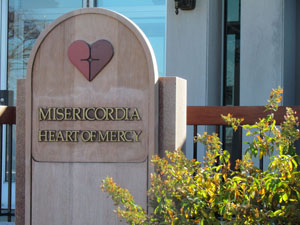 Many Regina students are involved in a variety of service opportunities. These service projects are fun and valuable learning experiences for all involved. One special place where students can learn and grow while giving back in service is through Misericordia.
Misericordia, which means mercy, is a Catholic-sponsored community for people with mild to extreme mental developmental disabilities. It was founded by the Sisters of Mercy under the direction of the Archdiocese of Chicago. However, most of its funding is made possible through private fundraising.
The director of Misericordia, Sister Rosemary Connelly, is a woman who has played a tremendous role in the development of Misericordia. Her efforts have made  advancements to Misericordia and has turned the home from a small residence into the place it is today. This is a very important example of leadership because at that time the home was founded, the government offered very few programs for people with developmental disabilities.
Misericoria is home to a wide variety of people. The range of opportunities for their residents is amazing. For example, the high functioning adults who stay at Misericordia live among each other in communities on the Misericordia campus. They live a relatively independent lifestyle and have jobs of their own. On the other hand, Misericordia is also home to low functioning people. There are highly disabled people who cannot talk or walk. The care that is provided for these low functioning people is outstanding.
The facilities they live in have 24/7 medical care, and the residencies are filled with an outstanding staff. The nurses are welcoming and they truly have an abundant amount of patience with the residents.
All the buildings on the Misericordia campus . They are spotless and almost every building is fairly new.
There are multiple ways to become involved around Misericordia. (If you are interested in learning more, click here.) It is so fun to become involved and work with the children and adults at Misericordia. This is also a great place for people with busy schedules because there are always volunteer opportunities available. They are located at 6300 N. Ridge  in Chicago, which is relatively close to Wilmette and easy to drive to.
One of the ways to volunteer at Misericordia is at their bakery, the Hearts and Flour Bakery. This is a fun way to volunteer and they are always looking for people to help. The best part about this volunteer opportunity is that you get to work alongside the high functioning residents in the bakery. There is a 100% guarantee that they will put a smile on your face, not to mention the goodies they have for sale.
Another way to volunteer is to join the Misericordia Junior Board. The Junior Board looks great on college applications and is one of the best ways to become involved as a young adult. The board is made up of high school and college age students. They meet twice a month and plan different events. To join the Junior Board, you will need to go through an application process.
Regina Dominican emphasizes the importance of leadership, and joining the Junior Board is definitely a great example. It is mostly student-run so there is a great opportunity to collaborate and coordinate events and fundraise with people who are the same age as you.
If you enjoy knitting, they are looking for someone to knit booties for the children and adult residents. This is a great way to put your hobby to use. Something so simple like this can make a resident's day.
Misericordia is also the location for Regina's annual Black and White fund-raising dinner. Misericoria uses the large space they have for many different activities varying from Saturday evening mass to large events like the Black and White.
Misericordia is a definetly a great place to complete service hours. It is a rewarding experience that will make a big impact in your life. Staff member, Caroline Galliani has volunteered during the Christmas holidays.
She said about her experience, "It felt good to work there. I helped out in their store and wrapped presents. Everyone was so happy to have young people volunteer and help out. Everyone's attitude was just so positive. I know we sometimes think service hours are a burden, but at Misericordia, I had such a good time and it was so much fun. I definitely felt like I was giving back and doing some good."
For an updated list of Misericoria's volunteer opportunities follow this link.