Meet Ms. Reilly!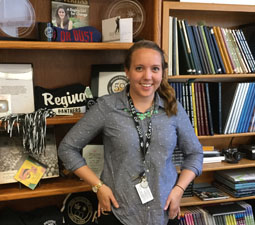 Ms. Reilly  is a Regina alumna, class of '09  She attended Xavier University in Cincinnati, Ohio, majoring in English and minoring in business.  She loved her experience at Regina and is excited to be back at Regina as the new Special Events Coordinator.
Q: What were you like in high school?
A: I was very busy and was involved in track, yearbook, NHS, and ambassadors club.
Q: How do you feel about an all girls environment?
A: I love it. I am an alum. It is a great community and it is so fun to get involved.
Q: Do you have any memory that stands out from high school?
A: I remember the Regina traditions like Gnimocemoh. I also remember when Mrs. Houston organized a club field hockey team. It was so fun.
Q: What is your dream job?
A: To be an author.
Q: If you could bring three people to dinner, dead or alive, who would they be and why?
Jackie Kennedy because I did a report on her in high school and she traveled the world. My grandparents because I never met them. Princess Diana because I love the royal family.
Q: What type of music do you listen to?
A: I like country music. I also really like Ed Sheeran, Brad Paisley, and I also like some music from the 60's and 70's.