Meet Ms. Joiner!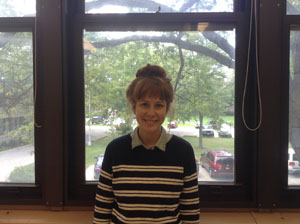 Ms. Joiner grew up in the small town of Tiskilwa, IL.  She went to college at Loyola University, Chicago and received her BA in English. Later, she received her BS in Secondary Education.
Q:  What were you like in high school?
A:  I was a goody two-shoes in high school and was always raising my hand in class.  I didn't do sports, but I was involved in the Scholastic Bowl and theater.
Q:  What is your spirit animal and why?
A:  My spirit animal would be a giraffe because they have always been one of my favorite animals.
Q:  How do you like the all girls school environment?
A:  I really like it!  I did my student teaching here and worked at an all girls Islamic school for a year, so I'm used to it.  I like the environment because it promotes "girl power" and female leadership.
Q:  What do you do in your free time?
A:  As an English teacher, it is probably not surprising that I like reading.  I would like to find the next Hunger Games or Divergent.  I like to cook, travel, and spend time with friends and family.  I also run; I completed my first half marathon in the spring.
Q:  What is your favorite type of music?
A:  I like mostly alternative music, but I also like indie and folk music,  mostly Mumford and Sons, Arctic Monkeys, Imagine Dragons, and the Lumineers.
Q:  If you could invite anyone to dinner who would it be and why?
A:  I'd bring Taylor Swift, Henry VIII, because I have read a lot about him and think he is interesting, and John Green because I like his books, especially Looking for Alaska.
Q:  If you weren't doing this job, what would you be doing?
A:  I think I would still do something related to English.  I would try to be an author, journalist, or editor.