Meet Mr. Marcum!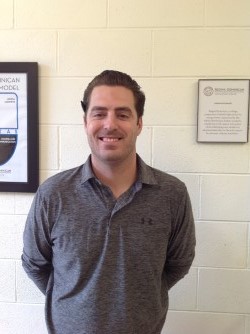 Mr. Marcum is Regina's new Athletic Director. He loves the Wilmette area and is happy to get back into high school sports. As athletic director, he handles everything from transportation to making sure Regina students have a positive athletic environment to thrive as student athletes. Below are questions and answers to get to know Mr. Marcum better. Welcome, Mr. Marcum!
Where did you go to college? What was your college experience like?
I went to Rockford University. My college experience was very rewarding, I played four years of college football and got my degree in, physical education. With the restraints of being an athlete I learned more about time management, teamwork, effort, and cooperation. It provided me with an experience to grow up faster while still providing a fun college experience.
What advice would you give seniors?
There is so much advice to give but mine would be to try as many things as possible in college: clubs, sports, intramurals and anything that gives you a better idea what the university has to offer. Encompass the whole experience so that you do not have any regrets later in life.
 Where did you previously live/do?
I was an Athletic Director in the Joliet School District for one year and then I was assistant Athletic Director for five year's in the Belvidere School District.
What do you do in your free time?
Be with my wife. We're preparing to have our first child so we are enjoying what time we have left together before our dynamics change. We're also preparing for the baby.
Favorite Music and why?
It varies so much! I would say between country and really I listen to anything. I have respect for all the genres. But, I guess it depends on what kind of mood I'm in.
 What did you want to be when you grew up?
I wanted to be so many things. I wanted to play basketball for Duke and I wanted to be a heavy machinery operator.
If you didn't have this job, what would you be doing?
Well, I couldn't play basketball at Duke. I could see myself doing a lot of things especially something with leadership. Something that can help people come together for one sole reason.
Do you have any embarrassing stories from high school?
I do not.
What three people would you invite to dinner?
My Grandpa because I never met him. Probably my wife's grandpa because I only knew him a short time, and my grandma. I would want to see family members that I have never met or haven't seen in a long time.
What would you last meal be?
Something my wife fixes!
If you could go anywhere in the world, where would you go?
Home. You can go anywhere you want, but at every vacation there is some point when you say, "I just want to go home.". I love being on vacation, but I cherish the time I have at home more than being out.