A Glimpse Into Winter Sports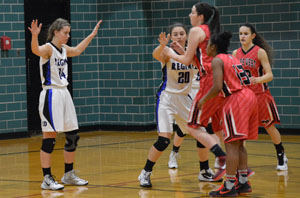 Although it still feels like fall, the winter sports seasons have officially started. Regina's two winter sports, basketball and bowling, have started out their seasons strong. Both teams have enormous amounts of potential as they head into December.
The basketball program is being renewed this year. The entire coaching staff is new with a total of six new coaches. They are collaborating with each other and the players in order to bring about a promising season. Last year's varsity basketball team, which had an absence of seniors, focused more on preparing the team for the future. Now, with senior leaders, Regina Trejo '17, Mary Brikha '17, and Colleen Palmer '17, the varsity team is ready for a more aggressive approach on the game.
When asked about this upcoming season, Trejo said, "Coming off a building season last year, were looking to go places this year. New coaches offer fresh ideas that our team is enjoying."
There is a positive attitude throughout all levels of the basketball program, which is an amazing thing to see so early in the season.
This year's bowling team has many new members since a few key bowlers on the team graduated last year. Stephanie Zalinski '17, a senior on the team, has a positive attitude as the season kicks off.
When asked about her goals for this year, Zalinski said, "I look forward to this new season to achieve best scores and to get to know my teammates."
The head coach, Pete Clark, and the assistant coach, Chris Zalinski are excited about this season and not only hope, but plan to be successful. The Panther bowling team is excited to compete in 10 GCAC games this season.
Although the utmost confidence should be placed in both the basketball and bowling teams, they still need help. Please do not underestimate the impact of fans. These teams would appreciate as much support as they can get!