Lily Hackett, Volleyball's Powerhouse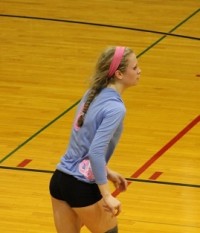 Kathryn Cressy, Staff Reporter
November 1, 2015
The Regina community can pretty much agree that one of our most athletic students is senior Lily Hackett. Lily plays many sports, but her favorite sport to participate in is volleyball.
"I love the rush I feel after getting a kill," Lily says.
Her love for the game began when she was fairly young.
"I've played volleyball since 4th grade," Hackett elaborated.
It hasn't always been easy for Hackett. She says, "The hardest part is shaking off a mistake."
However, the hard work she has put in has led her to play on the varsity team here at Regina for the last three years.
"The season is going great. We are trying to get a 50/50 season," Hackett says.
She has gotten close with her teammates over the years, and is sad to be graduating.
"I will miss my team the most," Hackett continued. "I want to have a successful season and enjoy my last year playing Regina volleyball."
Hackett's goals regarding volleyball won't end after she leaves Regina.
"I would love to play on the college level. If I go to a division III school I will try out. If not, I will play on an intramural team or club team," she states.
Wherever she goes, we know Lily will be a powerhouse on the court.