Lacrosse Fights Against Skin Cancer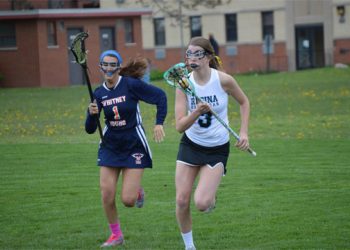 Regina Trejo, Music Editor
May 5, 2016
Regina Dominican varsity lacrosse team has had a successful season so far.
Colleen Speth has coached a great team of Regina Girls including captains Floriana Hoxha '17, Lily Hackett '16, and Nora Byrne '16, who will be continuing her lacrosse career at Butler University.
On May 3, the Lax Panthers hosted the Whitney Young Dolphins at Techny Towers. During this game, the team wore black and yellow hair ties with "Skin of Steel" written on them.
Skin of Steel is an organization whose mission is to "provoke revolutionary personal, behavioral and institutional change in dealing with melanoma." Susan Steel was a Stage IV melanoma survivor and wanted to spread awareness about the dangers of the sun.
Susan battled skin cancer for ten years before passing away on 6 Jan. 2016. Before she passed, Viv O'Bryan '18 had the opportunity to speak to her briefly.
Viv has since become a co-chair on the Junior Auxiliary Board for Skin of Steel. High school students from the North Shore— Regina Dominican, Loyola, and New Trier to name a few— make up this board. These students think of ways to raise awareness and funds for the protection against the sun's harmful rays.
Meagan Murphy '18 is also a board member for Skin of Steel.
At the lacrosse game, Viv said, "Melanoma affects everyone and by being aware and protecting yourself you are decreasing your chances of getting it."
The lacrosse team has taken action in the prevention of skin cancer by bringing and applying sunscreen before games and practices that take place outside.
"We're happy to support Viv and Meagan and their cause just as we're happy to support any Regina Girls in what they are passionate about," said Coach Speth.
Their successes appear not only within the lines of the field, but on spin bikes.
On 4 May 2016, the lacrosse team went to the Spyn of Steel event at Spynergy Cycling Studio in Winnetka, IL. This event was coordinated and held by the Skin of Steel Junior Auxiliary Board to raise money and awareness for melanoma.