Justin Bieber's New Album "Purpose"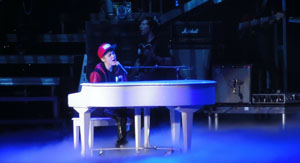 It seemed as though Justin Bieber had been on a hiatus since he did not come out with any new songs for quite some time. However, his new album Purpose ended his absence, putting Bieber yet again at number one on the Billboard Top 200. This is his sixth album to be number one on the list. He has had success with past albums such as Believe, Never Say Never, and My World. 
His new album consists of a revamped sound, and has turned some haters into "Beliebers." Even my twenty-two year old brother has given Bieber credit for his new songs. The album ranges from soft love songs to upbeat songs that will make you want to dance.
You will definitely be surprised if you listen to the album. Bieber's voice has matured and is no longer the same young boy who sang the pop hit "Baby." The songs on the album definitely give him the adult voice he is trying accomplish. I guarantee that you will very satisfied if you listen to the album.
A few of my favorite songs from the album include: "Children," "Love Yourself," and "Been You." These songs have more of an upbeat rhythm compared to the slower love songs. Without a doubt, these songs can always put me in a good mood. From studying to blasting them through my car speakers, these songs are always a go-to.
This album is a definite Christmas list must-have for people of all ages. Overall, Bieber's sound has matured and improved, and won't leave you disappointed.